So, you're running a marketing campaign, but not sure what advertising channel to choose?
Advertising means bringing attention to a brand's product or service and implementing specific tactics to achieve campaign objectives, such as increasing brand awareness or driving more sales. An advertising medium is how your brand's message is delivered to your target audience.
Popular advertising mediums are differentiated between traditional and digital.
In this blog, we'll touch upon what traditional advertising is but will mainly focus on digital advertising to give you a better idea of which advertising channels are right for you.
What is Traditional Advertising?
Traditional advertising means advertisements delivered through traditional media. This includes:
Broadcast (TV or radio)
Outdoor (billboards)
Print (magazines)
Traditional advertising channels are great for casting a wide net and ensuring lots of eyeballs on your campaign. However, you are competing with businesses from different industries for a prime spot, you need a big ad budget and you will have a harder time tracking the ad performance.
How do you track how many people saw your billboard from the street? What if people took a bathroom break when your TV commercial was airing?
Enter: digital advertising.
What is Digital Advertising?
Digital advertising is the delivery of advertisements on online channels like social media, websites, search engines, videos etc. Digital advertising is flexible when it comes to budget and is full of potential for ad reach. You can and choose which channels work best for your target audience. You won't be casting a wide net, instead, you'll have more precision in selecting your demographic, and the placements of your ad serving.
When it comes to the digital landscape, there is so much variety.
Don't make the rookie mistake of spreading yourself thin and going after a huge range of platforms to reach as many people as possible. It will be a waste of your time, resources, and precious ad dollars. You need to pinpoint your objectives and take a more focused approach: one that gets you in front of the right people that will convert.
In this blog, we'll break down digital advertising channels by what they are, a few statistics of demographics or fun facts and what types of marketing objectives the channel is great for.
Which Digital Advertising Channel Should I Use?
In this blog, we'll break down digital advertising channels by what they are, a few statistics of demographics or fun facts and what types of marketing objectives the channel is great for.
Here's a list of the digital advertising channels we will cover:
Paid Search Ads and are typically found at the top of the search results page once a user types in a keyword. The ad format is Pay-Per-Click (PPC) and captures people who are actively looking for a product or service. In fact, PPC visitors are 50% more likely to make a purchase compared to organic visitors!
The two biggest search ad platforms are Google and Microsoft Bing.
Brands pay for text ads to appear in the search results on Google.
There are 6 types of Google Search Ads:
Text
Dynamic Search
Call-Only
Shopping
Image
Video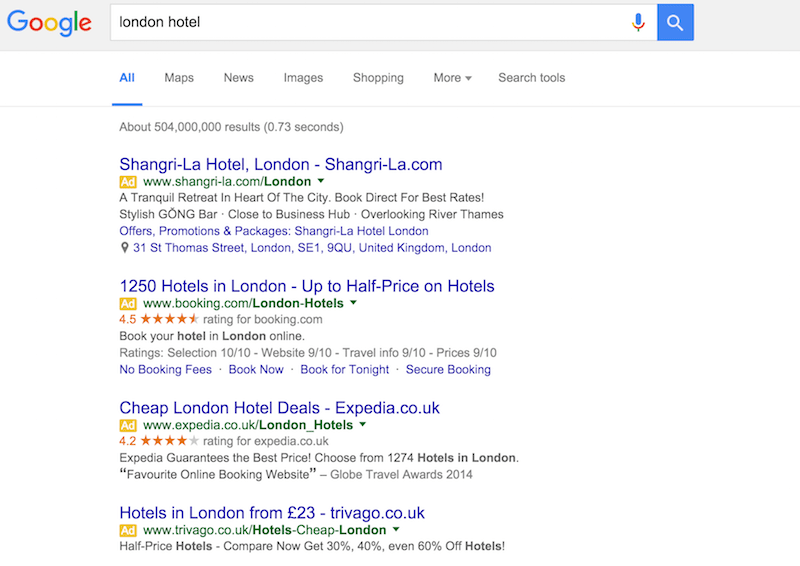 Increasing qualified website traffic
Driving conversions
Increasing sales
Microsoft Advertising (Formerly Bing Ads)
Bing is the search engine of Microsoft and offers Pay-Per-Click (PPC) advertising.
Types of Microsoft Ads:
Expanded Text Ads
Dynamic Search Ads
Responsive Search Ads
Targeting an older audience
Targeting an audience with bigger purchasing power
Increasing website traffic
Driving conversions
Quora is an online community for people to ask questions and provide answers to all types of topics. Professionals, students, and industry leaders are active in sharing their knowledge on this platform. This advertising channel is a combination of social and search.
Types of Quora Ads:
Images Ads
Text Ads
Promote an Answer
54% of Quora audiences have an average annual household income of $100k+
65% of Quora users have a college degree
37% more likely to be a manager
Businesses see 4x more conversions with Quora Ads
Reaching an audience with strong purchasing power
Driving high-quality traffic
Boosting brand authority
Increasing conversions
45% of people seeing Display Ads are in the middle (or the "Consideration Stage") of their Customer Journey. Great visuals can boost interest in your products and services and push them onto the next stage (which is "Conversion")!
Display ads are visual banners that can be found across the internet with specific placements on websites.
Types of Display Ads include:
Static Banner
Animated
Interactive
Video
Lightbox
Interstitial
Interactive
Google's list of Top Performing Display Ad Sizes are:
Building brand awareness
Increasing website traffic
Did you know that 22% of people clicking on retargeting ads are in the final stages prior to purchasing?
Display Retargeting Ads help you reach people who already were interested in your brand — and seal the deal. The most common type of Retargeting Ad are abandoned shopping carts where ads follow you around the internet reminding you that you hadn't completed your purchase.
Text
Dynamic Search
Call-Only
Shopping
Image
Video
Improving brand recall
Driving conversions
Video is the 2nd largest search method online, which is why 87% of digital marketers are using video content in their digital marketing strategies. Aside from text ads like Paid Search and Display Ad images, video ads are the most visually engaging ad format. Youtube is by far the biggest video advertising channel.
Types of Video Ads:
Bumper
In-Stream
Out-Stream
Interstitial
Masthead
TrueView Video Discovery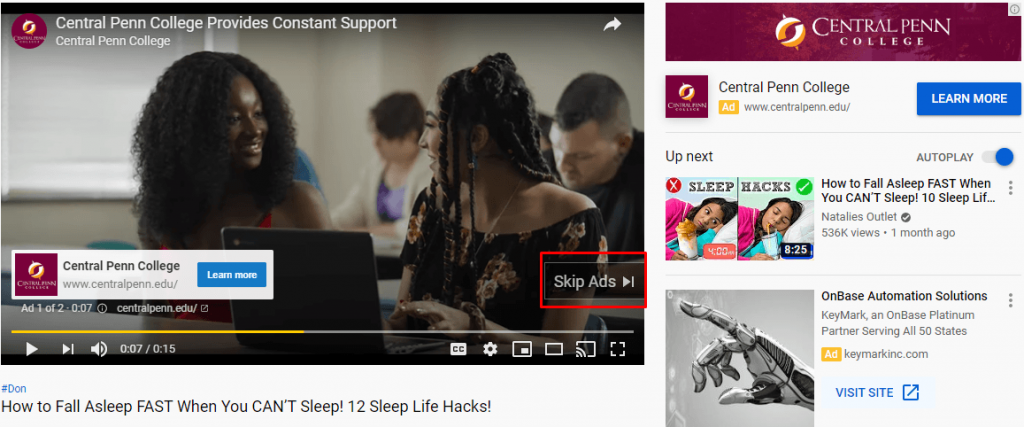 Targeting audiences from all walks of life
Expanding brand awareness
Native is a form of paid advertising that blends in with the look, feel, and function of its displayed platform. It is non-intrusive and typically content-rich. You typically find Native Ads in online news sites' advertorials, social media feeds, and recommended content on webpages.
Types of Native Ads:
In-Feed
Branded Content
Content Recommendation
Promoted Listings
In-Ad with Native Elements
Educating people on your brand offering
Building trust with consumers
Creating brand awareness
Increasing website traffic
In-App ads appear in mobile apps on smartphones and tablets. They have in-depth data tracking and targeting functions.
Types of In-App Advertising:
Mobile Banner Ads
Interstitial Ads
Rewarded Video Ads
Mobile Native Ads
Smartphone users spend 89% of their total mobile device time in mobile apps, VS 11% on the mobile browser
Mobile app Click-Through Rate is 0.58% and Mobile Web is 0.23%
In-app ads perform 11.4 times better than regular banner ads
Reaching highly engaged audiences
Increasing clicks
Connecting with users on mobile devices
Apple Search is an excellent advertising channel for mobile apps. It helps people discover your app at the top of App Store search results.
Mobile Banner Ads
Interstitial Ads
Rewarded Video Ads
Mobile Native Ads
70% of App Store visitors use the search bar to find apps
65% of app downloads occur directly after a search on the Apple app store
50% average conversion rate
Boosting brand exposure
Increasing mobile app downloads
Digital Out-Of-Home (DOOH) is the delivery of visual ads through digital screens in public spaces that typically has high foot traffic (transport hubs, airports, malls etc). They can be billboards or signs and are dynamic — meaning brands can run ads that update based on time, or the environment (such as weather).
Mobile Banner Ads
Interstitial Ads
Rewarded Video Ads
Mobile Native Ads
82% of survey respondents recalled seeing a DOOH ad in the past month, and the majority of them viewed the format in a favorable light
Because DOOH ads are served in person, they cannot be blocked out by AdBlock
This is one digital advertising channel that does not track actual ad impressions or reach
Creating brand awareness
Maximizing ad reach
Reinforcing brand recall
Driving foot traffic
Increasing conversions
44% of people who see Social Ads are at the beginning (or "awareness stage") of the Customer Journey. These ads are served to users on social media advertising channels. Different social platforms have different user demographics. Find out which ones you should consider for your next ad campaign!
Facebook
Instagram
LinkedIn
Twitter
TikTok
Pinterest
Snapchat
Reddit
Tumblr
Facebook is the most used social media platform around the world. It is an engaging platform that reaches both B2C and B2B businesses and people of every age. People create and share articles, images, videos and thoughts amongst their friends. Facebook ads are sponsored posts that can be set to different objectives such as lead generation or website traffic.
Types of Facebook Ads:
Image
Video
Carousel
Instant Experience
Collection
2.7 billion monthly active users
65% of users are between 18 and 34 years old
Users from the Silent Generation (born in or before 1945) have doubled and the number of Baby Boomers has increased exponentially
Building brand awareness
Targeting audiences from all walks of life
Driving engagement
Generating conversions
Instagram ads are sponsored visual content in the format of posts or stories. Because Facebook and Instagram have a shared ad platform, it expands the opportunity for brands to cross-promote.
Types of Instagram Ads:
Stories ads
Photo ads
Video ads
Carousel ads
Collection ads
Explore ads
IGTV ads
Instagram Shopping ads
Instagram has 800 million active users
More than half of the global Instagram population worldwide is aged 34 or younger
60% of people say they discover new products on Instagram
1 out of 3 most viewed stories are from business Instagram accounts
Reaching a younger target demographic
Driving brand awareness
Increasing website traffic
Generating conversions (leads)
Whether your company is B2B, B2C, a non-profit or educational institution, LinkedIn is the best advertising channel to reach business professionals. It's great for prospecting, nurturing leads, and driving conversions.
Types of LinkedIn Ads:
Sponsored Content
Direct Sponsored Content
Sponsored InMail
Text Ads
Dynamic Ads
Reaching business professionals
Prospecting
B2B lead generation
Boosting purchase intent
Driving sales
Twitter is a microblogging social media platform with a highly active user base. It's typically used to receive news, follow celebrities or politicians or share thoughts and memes.
Types of Twitter Ads:
Promoted Ads
Follower Ads
Trend Takeover
Expanding brand awareness
Growing a social following
Driving engagement
Increasing impressions and clicks
TikTok is a video-based social media app on iOS and Android. People create, discover, and share short videos of any topic you can think of.
Types of TikTok Ads:
In-Feed Ads
Brand Takeover
TopView
Branded Hashtag Challenge
Branded Effects
TikTok reaches 1 billion monthly active users in 2021
41% of TikTok users are between the ages of 16 and 24 (Gen Z)
People spend an average of 52 minutes a day on the app
Reaching Gen Z audience
Promoting your brand in an engaging manner
Driving awareness
Increasing website traffic
Increasing ad clicks
Pinterest is a social media platform that focuses on image sharing. Users can curate different themed boards such as recipes, fashion, home decor etc. 90% of people use Pinterest to "window shop" for product inspiration. It's great for eCommerce businesses to showcase their products.
Types of Pinterest Ads:
Standard Pin
Carousel Ad
Video Pin Ad
Shopping Pin
App Install Pin
Reaching a female audience
Boosting brand awareness
Driving website traffic
Increasing sales
Promoting an eCommerce business
Snapchat is a mobile app that makes any image or video you send accessible for only a limited time. It's typically used for private photo sharing, video chatting, instant messaging amongst friends, and discovering visual content. It's a trendspotting app.
Types of Snapchat Ads:
Image Ad
Video Ad
Filter
Lenses
Story Ad
Product Catalog Ad
Commercials
229 million daily active users
More than half of US internet users between the ages of 15 and 25 use Snapchat
Snapchat users are 60% more likely to make impulse purchases
Millennials and Gen Z have a direct spending power of $1 trillion. Snapchat is great for engaging with an audience that is ready to shop
Connecting with Gen Z and Millennials
Generating brand awareness
Driving sales
Reddit is a website platform that is made up of millions of communities of different topics where people can discuss and share content.
Types of Reddit Ads:
Promoted Post
Promoted Video
Category Takeover
Front Page Takeover
Trending Takeover
Reddit Takeover
Generating brand awareness
Increasing website traffic
Driving conversions
Tumblr is a social microblogging network. Users can post and share images, videos, and posts, follow each others' accounts and discover new content in the dashboard.
Types of Tumblr Ads:
Sponsored Posts
Sponsored Video Posts
Sponsored Day
70% of users say the Tumblr dashboard is their favorite place to spend time online
User base consists of teens and young adults
Generating brand awareness
Connecting with a younger audience
Interested in adding new channels to your digital advertising strategy?
Hop on a complimentary call with one of our experts today!
There are a lot of programmatic advertising platforms in the world. You're an advertiser on the hunt for a reliable, trustworthy programmatic ad partner. You need a company who knows the business of programmatic tech, and can use it to make your ad spend go further,...