Listen up! Audio advertising is a new, growing "stream" of digital advertising that is a force to be reckoned with, and the COVID-19 pandemic is fueling the consumption of audio as it serves as on-the-go escapism.
Did you know that since the pandemic, there has been a 42% rise in global podcast listening?
Find out what audio ads are and if you should be using this exciting format to titillate your audiences' ears!
In this blog, we'll cover the following points:
What is Audio Advertising?
Audio is how people consume media on the go. Some people might be jogging to an upbeat playlist or chilling out with a podcast during a commute; either way, they are fully immersed. Audio advertising is the delivery of ads in audio format through online streaming platforms like podcasts or music streaming apps.
Examples of audio ad channels include:
Amazon Music
Apple Music
Deezer
iHeartRadio
Pandora
Podcast Ad Networks (eg. Midroll)
Podcast Publishers (eg. NPR, Vox, ESPN)
SiriusXM
Sonos Advertising
Sound Cloud
Spotify
Stitcher (Podcasts)
TuneIn
YouTube Music


You will find more infographics at 
Statista
Spotify is the leading global platform for music and podcast consumption. A fourth of their total revenue comes from programmatic audio ads. They shared that their listeners daily life is surrounded by audio streaming:
During gaming
In the car
Mobile
Desktop
SmartTV (Over-The-Top)
Tablet and other connected devices

Here's what a typical day looks like for Spotify listeners in the US: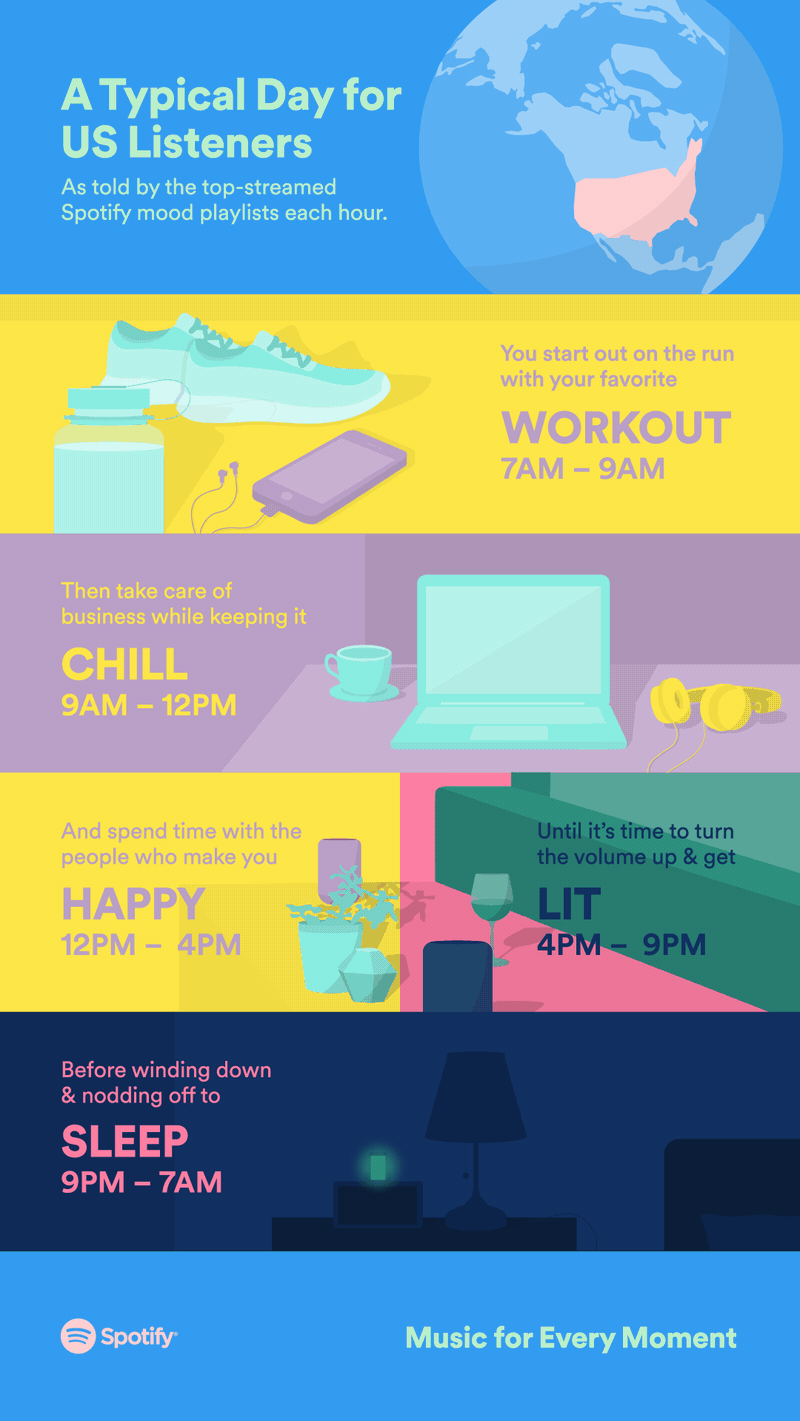 Programmatic Audio Ads are run similarly to 
Programmatic Video Ads
. Target audience, budget, and parameters are set for each campaign. There are a few different options available:
Just like video, ad placements can be: pre-roll, mid-roll, and post-roll. This means your ad can be played before, during, and after a streaming session. These are typically 15, 30, or 60 seconds long with no visuals.
Tell a story through multiple ads over time. Many use it to create brand awareness and end the sequence with a compelling call-to-action.
Utilize the first few seconds to grab people's attention before they skip. Pre-roll and mid-roll ads can have the option to be skippable. It's a good option for advertisers to experiment with their content and observe listener behavior and interests!
Here are some examples of audio ads on Spotify. You can see how brands decided to use their banner ad space differently. Some with a static image, some video, but all with a clear Call-To-Action.
Traditional Radio vs. Audio Ads
Traditional radio ads are delivered through airtime purchased from commercial radio stations. Brands compete for morning slots to capture a wide audience driving to work, which drives up the price for primetime. Your ad buy is limited to stations, shows, and time slots.
Radio ads are typically costly and is similar to casting a wide net, you reach a lot of the general population but can't properly track how many people listened to your ad.
On the other hand, digital audio ads are distributed through mobile streaming apps. These are more accessible than a car radio, which means a broader audience.
Advertisers can select specific artists or podcast genres that align with their target audiences' interests and directly serve audio ads. The ads are then distributed throughout the stream at certain dedicated intervals. There is no need to compete for primetime timeslots as people stream audio whenever they feel like it. This option is flexible and versatile.
Audio ads also tend to be more conversational in tone, and the ad content tends to be more personalized and specific to match the groups of listeners!
Benefits of Audio Advertising
Suppose you're interested in investing in audio advertising. In that case, we recommend partnering with an agency like War Room, because most audio ad inventory is available through online auction. It is predicted by 2022, one out of five audio ads will be programmatic.
Here are some other benefits to running these ads:
High-Targeted Audience Reach
Reach listeners based on the audio content that tickles their fancy. True crime podcast? Adrenaline-pumping songs for the gym? Your ads will be played to your target audience, whether they're at home or on-the-go! Granular targeting means a better Return On Ad Spend.
Engage Your Listeners to Take Action
Despite human beings being visual creatures, a report states that audio ads have a 24% higher recall rate than traditional Display Ads. Furthermore, surveys show that 60% of podcast listeners made a purchase after listening to an audio ad! This means when people are streaming a playlist or podcast: they are highly engaged.
Track Your Ad Spend & Be Cost-Effective
Compared to traditional radio ads, audio ads have lower costs, and advertisers can actually attribute listens to ad spend. Audio ads provide in-depth data insights for advertisers to understand their campaign results better. They are also more target-specific, which yields a better return to the brand investing.
Easier to Create Than You Think
Audio is a new medium and so many advertisers are trying to capitalize on it. But what if you don't have access to a recording studio? Don't sweat it! Creating an audio ad for your brand is simpler, faster, and more affordable than you think.
Companies like Voices.com offer professional voice actors for hire. You can check out their portfolios and get access to great voice talent in over 100 languages (great if you want to target different language markets).
If you plan on using music in your audio ads, you'll have to use a royalty-free music provider like TuneReel.com. This way, you won't need to pay any royalty fees when licensing the music for your audio ads.
Spotify also has an in-house audio ad production service. As long as you know what your campaign is about and provide a companion image–their team can take care of the rest, like writing, recording, editing and producing your ad. Take a look!
War Room's partnerships with platform partners mean you get access to the best inventory. Having your audio ads delivered directly in-stream through audio apps reduces fraudulent activity risks and ensures legitimate listeners.
We found that audio ad's audience reach and cost-benefits were both superior than traditional radio ads, which we had been running previously. By combining our advertising efforts on Search, Social and Display, we were able to connect with our target audience and create brand awareness in a whole new way through audio!
I love that War Room's reports measure our campaign results effectively. In 2 months, we received almost 95,000 audio listens on Spotify!There is lots of potential in audio advertising and we are pleased with War Room being our strategic partner throughout the whole process.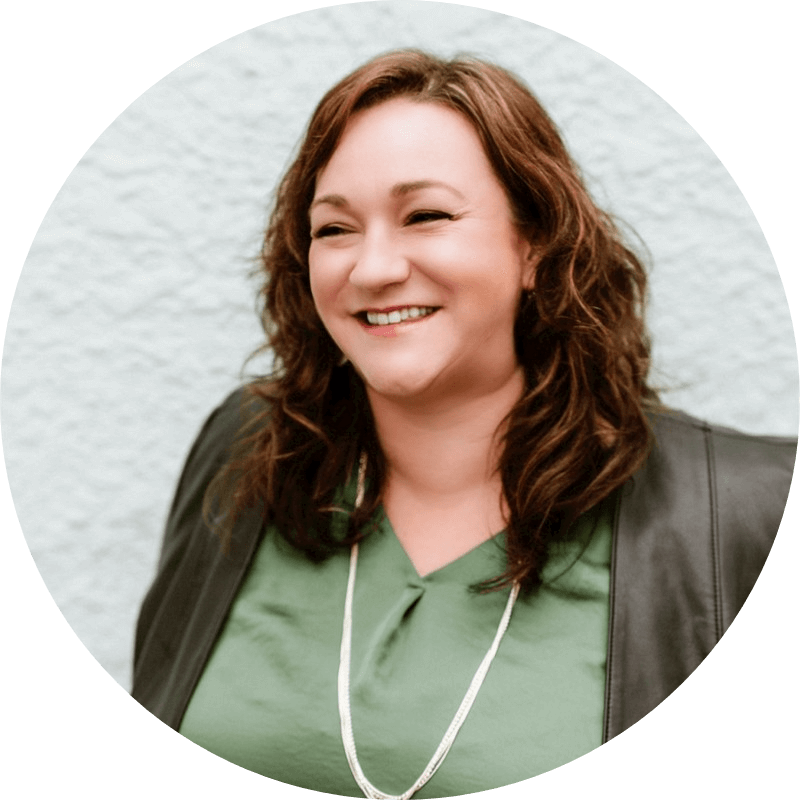 Kirsten Soder, Campbell River
Interested in adding audio
to your digital strategy?
Audio Ads are a relatively new format of digital marketing.
Due to COVID-19, more people are listening to podcasts and streaming music than ever.
Music-streaming platforms like: Spotify, Apple Music etc are popular globally.
Traditional Radio Ads are costly and limited when it comes to distribution.
Audio ads are cost-effective and can granularly target audiences based on their interests and anytime of the day.
The biggest advantage is ad attribution is made possible with audio advertising.
Audio ads are target-specific, excellent for brand awareness and can drive a strong return on brand investment—meaning it could be a great asset to your existing digital marketing strategy.