Digital marketing tools, you say? There are so many of them!
Whether you're a small business or a big enterprise, digital should be a vital part of your marketing strategy.
War Room has worked with brands of all sizes across industries. We're here to share the most useful and important digital marketing tools you should be using.
We sectioned them off into different functions.

Editor's Note: We plan to update this blog whenever we come across another fantastic digital marketing tool!
Humans are visual creatures and when it comes to marketing, first impressions matter.
Graphic design where a brand creates visual content to communicate messages. Effective graphic design and communications, whether it be on your website, social posts, or logo, can create brand recognition, consistency and differentiates you from your competitors!
We are a huge fan of Canva. It's a graphic design platform that is user-friendly and makes creating social creatives fun and simple.
Plus, we love that it's free to use, but they also offer a pro plan which grants you unlimited access to premium tools and content, as well as an Enterprise plan to manage brand creatives centrally. It scales with the size of your business.
You don't need to know how to use Photoshop or Adobe Illustrator to use it! Here are some examples of creatives you can create on Canva:
Social Feed Posts (they have measurements for all the channels, such as Facebook, Instagram, LinkedIn, Pinterest, etc)
Vertical posts (Instagram stories, TikTok, etc)
Videos
Logo
Brochures
Banners
Business Cards
Posters
Resume
Letterheads
Checklists and so much more!
It can fill the gap for a graphic designer. They have thousands of templates created by the community you can use for free and customize.
At War Room, we use the Pro Plan, and our favorite part of it is having a Brand Kit, where we can upload our Brand Colours, fonts, logos, etc so when we create a new design, it's plug-and-play.
You don't need a graphic designer to create great creatives.
It's evolving to be a one-stop shop for graphic content.
Group collaboration is available.
A huge database of free, quality graphics and templates that are customizable.
It's very versatile; you can download files into PDF, jpg, GIF, png, svg, and more.
On the free plan, you have limited access to certain features.
The video editing tools could be improved.
You can't create unique elements. Instead, you can use prebuilt designs and elements.
Sometimes the dimensions for social media channels aren't up-to-date (be sure to double-check)!
The mobile app isn't the most intuitive. The desktop experience is the best.
Do you know that WordPress powers 64 million websites? In 2020, Divi was the most used theme on WordPress, with 2.8 million site owners using it.
It's an intuitive page builder and WordPress theme. It's the perfect digital marketing tool to build any type of website. Whether for your business, blogging, eCommerce, or even dropshipping, Divi's got you covered!
Divi boats over 100 pre-designed website layouts you can use. It also comes with free design elements, designs, and vectors to fully customize your web page interface.
Fun Fact: War Room's website is created entirely with Divi!
Take a look at Divi's video here:
You don't need any coding skills or a web developer.
Instant updates: any changes you make can be updated on the fly.
Almost everything is drag and drop, super simple, and easy to use.
Occasionally there are updates and glitches that happen. Divi does provides workarounds until it's solved.
In the builder, the inline editing is not the most precise and could be improved.
Sometimes when you're building a longer page with more elements, loading speed can be a bit slow.
If you have a website, it is vital to monitor its performance and make optimizations to ensure you're delivering the best user experience possible. With algorithms constantly changing, you must be agile and swift on your feet to keep up!
Here are the most essential digital marketing tools you should be using to keep an eye on your website and learn more about your audiences' interactions with it.
The quintessential tool every website owner must have is Google Analytics.
It is Google's free web analytics tool that tracks and reports your website traffic. It also lets you measure your advertising Return On Investment (ROI). You gain insight into your website visitors' demographics, sources of your traffic, page performances, and much more.
It serves as a great tool to monitor webpage performance: you can see what the Bounce Rate is, how long people stayed on the page…if anything seems off, you can make optimizations to fix it and improve your website experience.
We also love Google Analytic's abilities to let you compare your data Month-Over-Month, Year-Over-Year, or even day after day!
However, like all relevant tools out there, the Google Analytics we know and love is changing into Google Analytics 4 (or GA4) at the end of June 2023. So, if you haven't jumped on the bandwagon yet, now's the time to read the GA4 setup bible and make the necessary changes to your website(s).
It is the permanent database of your company's digital activity.
It makes consuming data visually easy.
It unfortunately does not have keyword data. You would have to supplement this need with Google Search Console or other SEO tools.
If you're looking for more complex data segments, it can be trickier to retrieve if you're a beginner.
Previously known as Google Webmaster Tool, Google Search Console is a web service that allows webmasters to check your website's indexing status and optimize your website's visibility.
You get to see the search queries people typed into Google and came through to your website. Performance metrics measured include impressions, clicks, Click-Through Rate, and search ranking.
Google Search Console also highlights the page with issues so you can consistently monitor, maintain and troubleshoot. They also recently introduced Page Experience as one of the key performance metrics. You can read more about it here.
If you have a website, you should have this synced, alongside Google Tag Manager and Google Analytics.
Ongoing monitoring of website performance with useful dashboard information.
It isn't as user-friendly for people who are beginners in SEO. It can be hard to understand how to make website improvements.
Search Engine Optimization (SEO)
Search Engine Optimization (better known as SEO) is the process of improving the rankings of your website organically (non-paid) in search engine results. This results in increased visibility when people are searching for products or services in your industry online. The stronger your SEO means more visibility online, thus more website traffic and conversions.
In the digital marketing sphere, SEO is an entire beast in itself. It encompasses so much: technical SEO, on-page SEO, keywords, meta-descriptions, H1s…whoa!
Here we highlight two fabulous digital marketing tools for SEO, but here are some other honorable mentions: SERPed.net, SEMRush, Moz, ScreamingFrog, Spyfu, Buzzstream, etc.
Ahrefs is a robust one-stop shop for SEO. It features tools including keyword research, competitor analysis, link building, rank tracking, website audits, and more.
Our favorite feature is the Site Audit, where Ahrefs routinely scans your website and identifies all the problems, plus how to fix them. This way, you can ensure your website performance is always in optimal health.
If you want to place higher on Google rankings, this is the digital marketing tool to have!
It bridges the gap between Google Analytics and Google Search Console.
Because of its impressive features, it can be quite a learning curve to figure out how to use it efficiently.
Yoast is a must-have for every WordPress user. It's a free plug-in that simplifies technical and content SEO.
For technical SEO, it takes care of items such as:
Robots.txt
Clean permalink URLS
Sitemaps
Valid Schema.org
Noindex/nofollow options for every page
OpenGraph tags for each page and more
For Content SEO, it takes care of your focus keyphrase, ranking your article and providing you with a detailed analysis and action items to improve your SEO and readability.

Here is an example of what it would look like: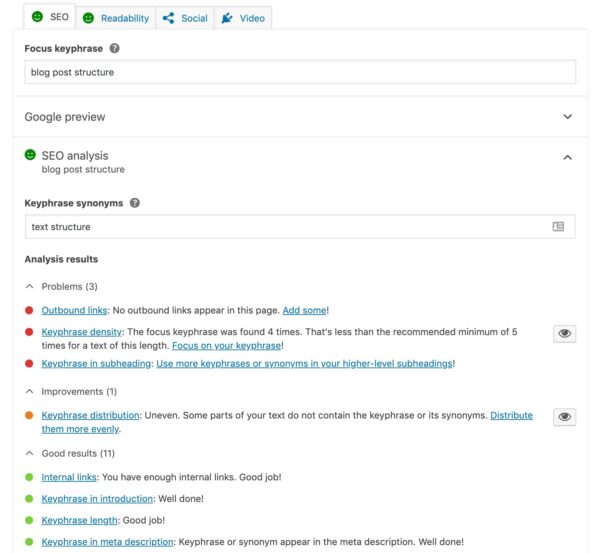 The tool is accessible and user-friendly, acts as a proofreader, and helps with website optimization.
Sometimes Yoast doesn't understand intent. It follows the same set of rules rigidly and might incorrectly highlight problems and improvements that need to be made. It's kind of like some grammar-correcting software, which can be annoying!
If you want to claim more real estate in Google search results, you most definitely need to have a 
Google My Business
 listing for your business.
It is a free business account that supports your SEO and local marketing. It helps boost your visibility on Google, which helps people discover your brand.
Another primary function of this digital marketing tool is brand reputation management. 60% of customers read Google reviews for a local business. So be sure to keep an eye on what people are saying about your business and be attentive in responding to feedback!
You should also be cross-posting your social posts on Google My Business. It elongates your Business Listing on the search results page. It's a great way to share your blogs or latest promotions.
Helps with SEO and establishing a presence on Google search and Google Maps.
Lack of customer support — hard to dispute inauthentic reviewers.
Search Engine Optimization (better known as SEO) is the process of improving the rankings of your website organically (non-paid) in search engine results. This results in increased visibility when people are searching for products or services in your industry online. The stronger your SEO means more visibility online, thus more website traffic and conversions.
In the digital marketing sphere, SEO is an entire beast in itself. It encompasses so much: technical SEO, on-page SEO, keywords, meta-descriptions, H1s…whoa!
Here we highlight two fabulous digital marketing tools for SEO, but here are some other honorable mentions: SEMRush, Moz, ScreamingFrog, Spyfu, Buzzstream, etc.
Unbounce
 is the leading landing page builder. You can build beautiful landing pages for lead generation ads, growing your email list, or driving sales.It's got robust functionalities in split testing, so for users, it's easy to create variants for testing.
They offer a free trial for you to test it out.
They come with beautiful and tested templates that are fully customizable.
There will be a learning curve.
You can't split test with other pages that were not built on Unbounce.
When it comes to digital marketing and paid ads, we strongly believe that programmatic advertising is the future. Finding the right ad partner and tools are crucial because your brand's reputation and ad dollars are on the line!
We believe in a multi-prong approach to capture your target audience at every stage in their customer journey. Search, Display, and Social are the staples, but there are more options to mix-and-match to expand your audience reach! Find out "How to Choose the Right Advertising Channels".
We might be biased, our favorite digital advertising tool would be Kedet, a Demand Side Platform we built from scratch. It is a programmatic dream as it consolidates many ad tech into a central platform.
The coolest feature of it is the advanced cross-channel advertising capabilities. It syncs all your ad channels and their data, so our programmatic advertising experts can analyze and make real-time adjustments. Furthermore, we can exclude audiences who have already converted from one channel, in turn saving you ad dollars.
Not to mention, our direct partnerships with 90,000+ premium ad publishers mean you can expect:
Lower Cost-Per-Click (CPC)
A wider audience reach
Overall, a lower Cost-Per-Acquisition (CPA)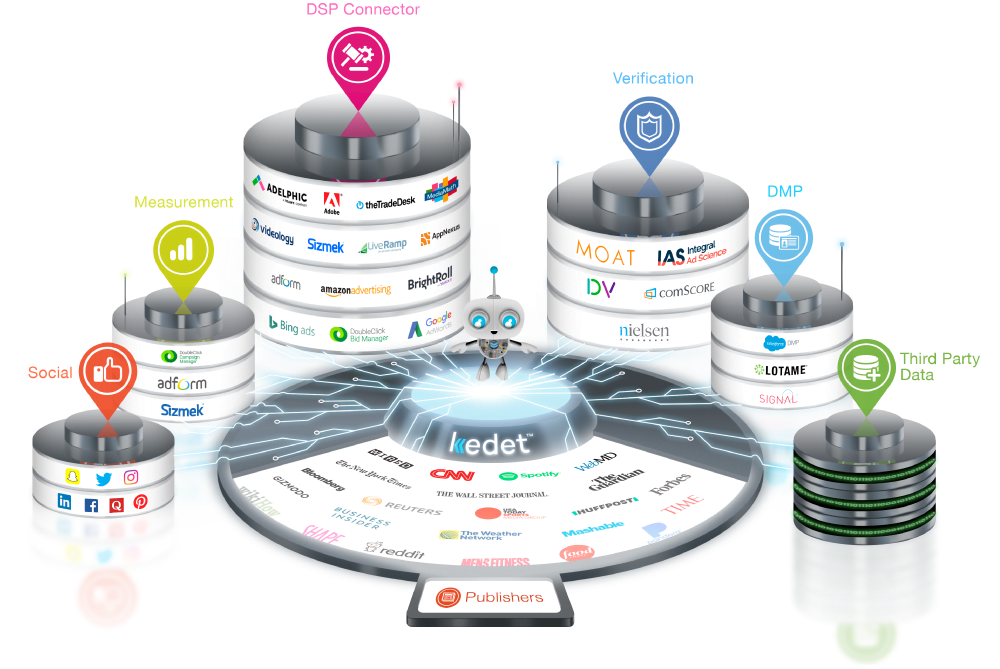 Access to 90,000+ premium ad publishers.
Unparalleled cross-channel functionality means accurate data and lower CPC.
Offers a huge variety of ad options, including Display, Social, Native, Audio, Digital Out-Of-Home, Video, Over-The-Top, In-App, Travel, Metasearch and more.
It isn't a DSP solution you can license. Instead, War Room (who built Kedet) will be your agency partner and take care of all your paid ads (planning, strategy, execution and reporting), so you can win big!
Effectiveness and results may vary depending on industry and budget, but we always aim to not only meet but exceed your campaign goals.
Klick & Mortar
 is a handy tool for businesses that have physical locations and want to drive foot traffic. It allows you to track your consumers from the moment they see your digital ad to the moment they step foot in your location.
By collecting this data, you will be able to plan for future campaigns by predicting consumer behavior. It features cross-channel attribution, so you can see how the customer journey progresses across all your advertising channels. This is a powerful tool that's great for the tourism industry, retail, institutions (such as banks, schools), restaurants and so much more.
Take a look at how it worked for Thompson Okanagan Tourism Association:
You gain deeper insights into how your ads are performing.
It connects data through multiple ad channels so you get the full picture of consumers.
Only applicable to businesses with a brick and mortar or physical location.
It isn't as ideal of an add-on tool. It should be incorporated into your ad campaign before it launches, or else you'll be missing a lot of valuable consumer data.
Project management is the process of leading a team to achieve all project goals and tasks.
Project management is also how a marketing team stays on track for campaigns. Having a digital marketing tool in place can increase productivity by providing guidelines to marketing team members to check things off the list correctly and efficiently.
Monday.com is War Room's choice of project management! It's a Work Operating System that enables teams to run projects and workflows seamlessly.
We are a fast-paced team that manages hundreds of moving parts simultaneously, and our team members use Monday.com to stay organized, communicate with each other, and keep each other informed.
Monday.com centralizes all communication and files, which gives transparency across departments and eliminates the need for endless email threads or unnecessary meetings.
The layout is visual and intuitive and an excellent tool to have a clear overview of all projects for your teams!
Some functions include:
Items & sub-items
Team member assignment
Set deadlines and timelines
Label level of priorities
Email notification reminders
It helps keep your team focused, stay ahead of time-sensitive tasks, etc.
The platform is easy and intuitive to use.
Plans can vary by the number of seats/users. You might have to upgrade to a pricier plan for the next user amount tier (it's not as flexible).
Space for improvements when it comes to automation and dashboard flexibility.
Social Media
and Digital Marketing go hand in hand. You're probably already savvy around Facebook, Instagram, TikTok, Twitter, Pinterest, LinkedIn, Snapchat, and all that jazz.
Having a handy digital marketing tool that automates posting on them saves you time and helps you work smartly and effectively.
Honorable mentions: Later.com, Sprout Social, Buffer.
Hootsuite is a neighboring, local Vancouver tech company whose headquarters is just a few blocks away from ours!
Founded over a decade ago, Hootsuite is one of the pioneers for social content automation. they have a user-friendly dashboard that allows you to:
Manage multiple networks and profiles
Conduct social listening
Measure engagement
Respond to messages
Analyze social performance results

You can schedule social content days, weeks (or even months) ahead of time. This is great for campaign planning and execution. Hootsuite offers different-tiered plans, including free, professional, team, and business profiles.
It gets the job done, enabling social content automation with ease!
The free plan is very limited as you can only schedule 5 posts at any time.
Surveys help gauge people's views, experiences, and satisfaction with your brand. With the collected data, you will be able to make informed decisions.
For marketing, research surveys allow you to learn more about your target audience. By understanding the market size, sentiment and demand, you improve your brand's offerings.
Typeform
 is our digital marketing tool choice when it comes to conducting surveys. Whether it is a client satisfaction survey or intake form, Typeform enables you to create beautiful surveys. Their surveys are one question per full page. You get to WOW survey responders with great, branded visuals.
What makes them unique is they have "Logic Jump", where your form responds to people's answers automatically; they don't need to skip irrelevant questions because they won't even see them. The feature allows you to segment your audience and create a seamless experience.
Here is an example: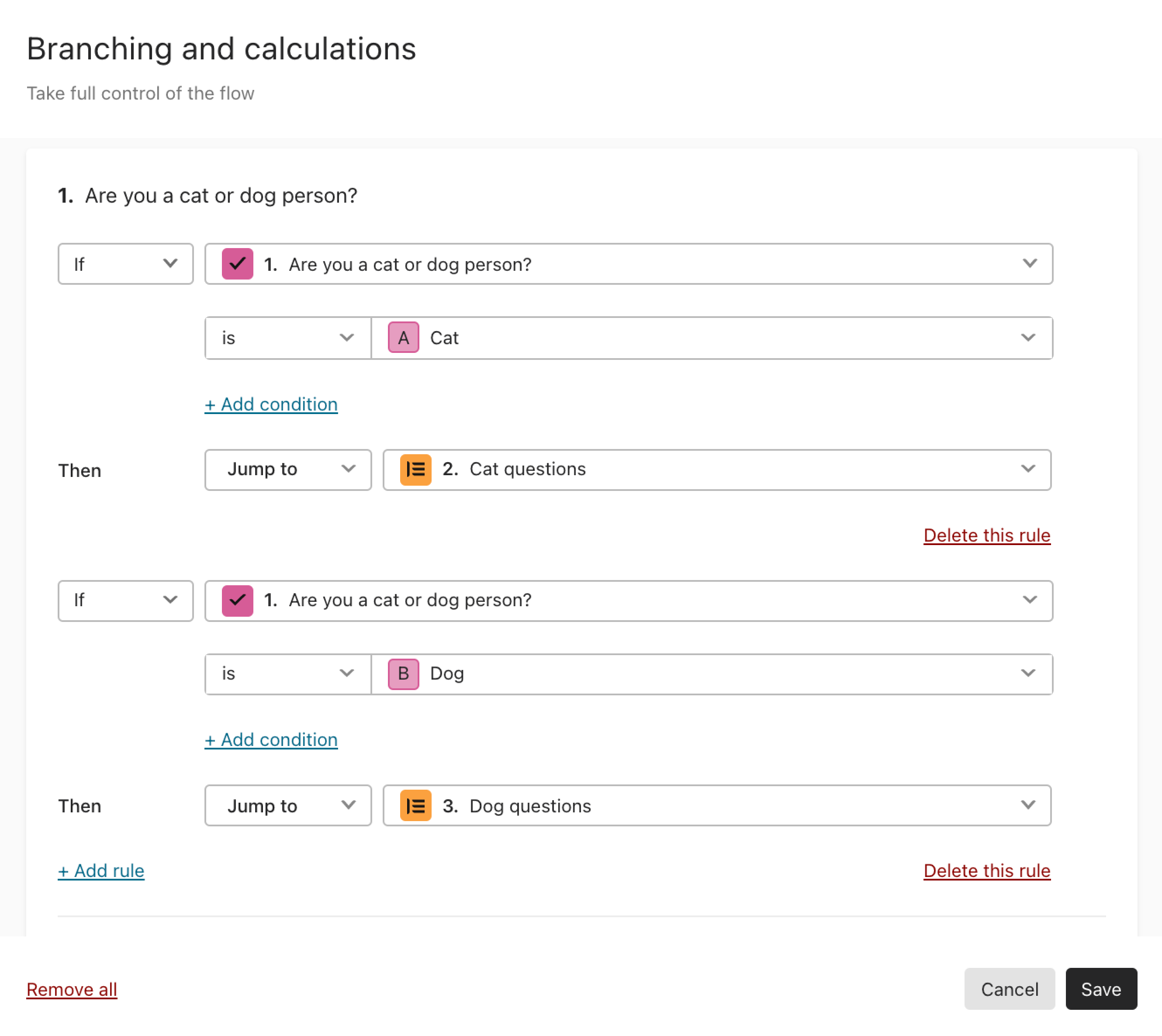 The smart Logic Jump capabilities elevate the user experience.
It provides an intuitive user experience with lots of customization capabilities.
Integrates with Hubspot, Zapier, etc, to collect data.
The free plan doesn't include certain handy features.
With so many options, it can be overwhelming.
If you're trying to build a more complex questionnaire, it can get a bit trickier.
As we discussed previously, Google will be 
phasing out third-party cookies
 and replacing them with their 
Privacy Sandbox
. That's why the collection of 
first-party user data
will be even more critical.
Email marketing is the perfect way to do so. Keep your email subscribers informed of your latest news and offerings, or show how you're a thought leader in your industry by sharing your latest blogs!
What's great with email marketing is creating audience segments and setting up drip campaigns for each. You can tailor your messaging for different groups of people. It's great for driving traffic to your website, increasing sales and engagement.
Mailchimp
 is one of the most popular email marketing platforms out there. It is an integrated marketing platform for small businesses, but it's probably best known for its email marketing and automation services!The platform simplifies creating email drip campaigns and newsletters. It offers a wide variety of email templates that are easy to use (point and click, no need for HTML knowledge). It integrates into many sites such as Facebook, Divi, and so on, so email collecting is a piece of cake. Mailchimp tracks email performance and you get access to analytics and metrics of your campaigns. You'll be able to review what's working and be able to make adjustments to headlines, copy, or creative to improve your email performance!You can also use their platform to build websites, surveys, pop-up forms, and more.
Easy to use: drip campaigns can be set up effortlessly and automated.
Mailchimp is free until you hit 2,000 subscribers. After that, it can get pricey!
Newoldstamp is a leading email signature generator that enables companies to standardize email signatures across the whole organization and turn business correspondence into an effective marketing channel.
A well-crafted email signature can help you promote your products or services to the right audience and create thousands of sales opportunities every day.
Newoldstamp is an end-to-end email signature management platform built to simplify the process and save you time. This signature generator is well-known for its excellent customization possibilities, ease of use, and central email signatures management.
The combination of simplicity and power inherent to Newoldstamp makes it a great tool for organizations of any size.
It includes a wide range of features, including:
Email signatures central management – design branded company-wide email signatures for your team and automatically deploy them directly to their email client settings
Google Workspace, Exchange, and Microsoft 365 integration – sync data from Active Directory or Google Workspace Directory to create signatures based on an on-brand, pre-designed template
Email signature marketing campaigns – Send targeted marketing messages by adding attractive and clickable banners with CTAs to your email signature
Built-in email signature analytics – track the number of impressions, clicks, and call-to-action effectiveness in real-time
A large number of signature applications like marketplaces, interactive CTAs, social media buttons, disclaimers, and more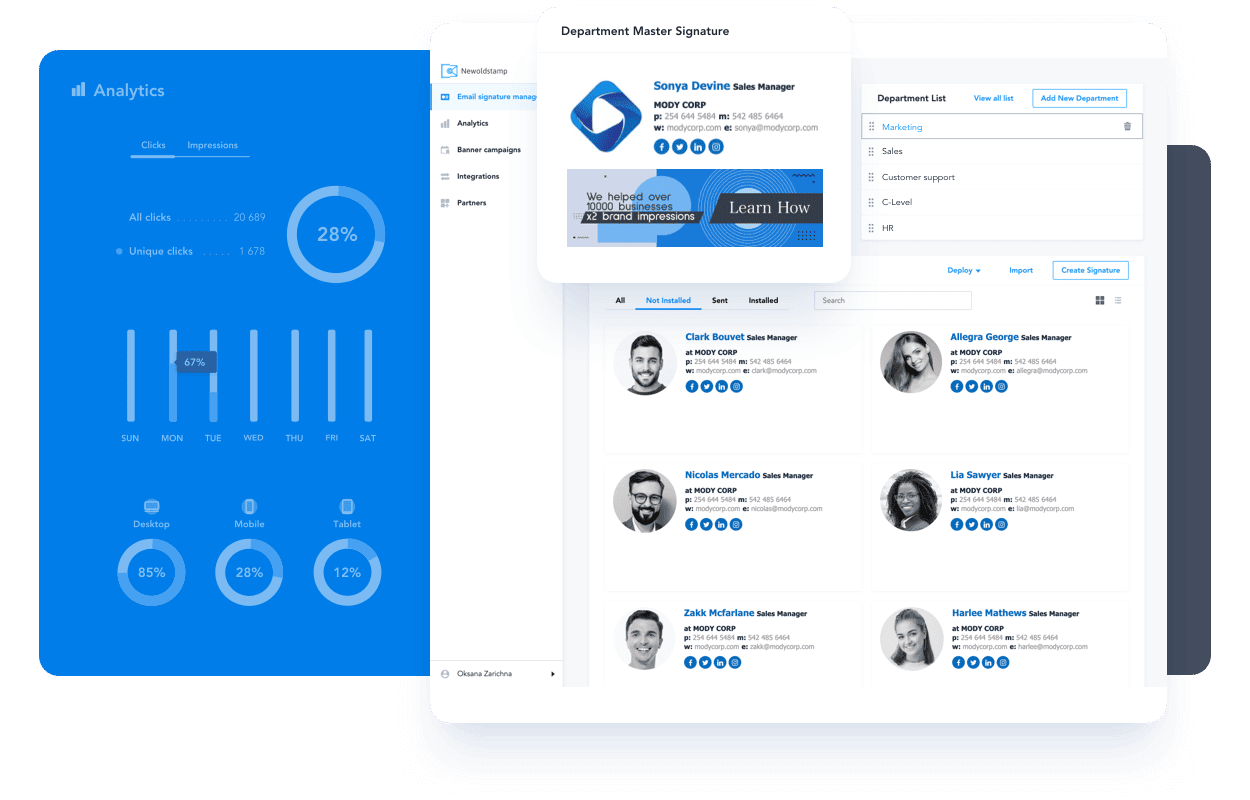 The platform is easy to use
Excellent customer support
The free plan is limited to just a couple of templates.
We hope you enjoyed our pick of digital marketing tools, we believe they can streamline your marketing team's work process and improve its efficiency!For more blogs like this, be sure to 
subscribe to our newsletter
.
Say hello to customized advertising strategies that convert.
Get in touch with our programmatic experts today!