Shop til you drop? Now, it's more like: online shop 'til ya' keyboard flop!
Our article, "How Amazon is Dominating eCommerce," mentioned that Amazon pushed Prime Day to October 2020 because of the COVID-19 pandemic.
In November, there are typically huge sales, both in-store and online. Yes, Black Friday and Cyber Monday deals are always when people like to shop till they drop. However, a new emerging "day" has come, and it's a force to be reckoned with!
Say hello to Singles' Day, November 11th. This day originated from China; the main goal is to bring attention to and celebrate those whose relationship status is single, which has now evolved into an epic sales event.
In this blog, we will explain how Singles' Day is single-handedly dominating global online sales.
In this article, we will cover the following topics:
How Did Singles' Day Come About?
The "day" itself is said to originate back from the early '90s in China. College guys supposedly started this unofficial day to celebrate their singlehood and have a day that's "anti-Valentine's."
This date's numerical visuals: 11/11 looks like lonely matchsticks standing by themselves, which is why this day was chosen.
It wasn't until 2009, when Chinese eCommerce giant Alibaba brought it to the limelight. They took the concept and structured an online event around it. Think of it like Amazon Prime Day but not exclusive to just Alibaba's online sales. It's a socially-constructed, 24-hour, epic sales event that many Chinese businesses have rallied behind and fully-embraced. This trend has now been brought all across the world!
The Power of Singles' Day
Here are some compelling statistics to get you thinking about maybe you want to plan a campaign for the upcoming Singles' Day!
When Alibaba debuted the event of this sale back in 2009, 27 vendors participated. Fast forward to 2017; there were 60,000. In 2019, 200,000+ brands participated!
Singles' Day is now the biggest shopping event in the world. They grossed approximately $30 billion in sales, which completely blows Black Friday sales out of the water. Take a look at Business Insider's graph from 2018: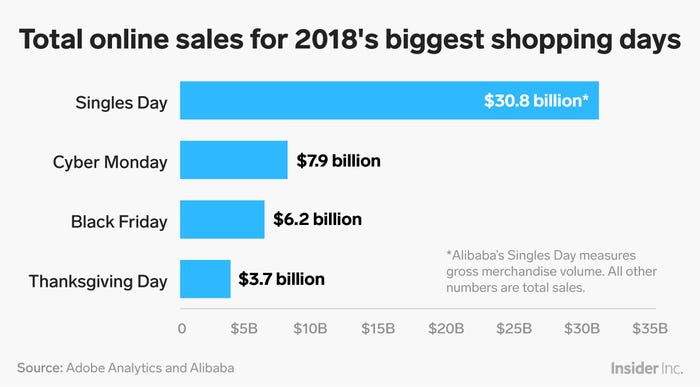 2009: $7 million
2010: $135 million +1700%
2012: $3.04 billion +267%
2013: $5.75 billion +83%
2014: $9.3 billion +63%
2015: $14.3 billion +60%
2016: $17.7 billion +32%
2017: $25.3 billion +39%
2018: $30.7 billion +27%
2019: $37 billion
The numbers have skyrocketed and had significant growth, year over year. We are curious to see what will happen in 2020 because COVID-19 has exacerbated online shopping behaviour amongst different age groups.
1 in 4 US retail brands plan to get involved with the sales event, such as Apple and Estee Lauder.
It has become such a hyped-up event that they hosted a countdown gala with a Taylor Swift concert in 2019. Kim Kardashian also launched her fragrance on the platform through a live stream for the event.
With this much star power and participation from big brands, it's hard not to be tempted to participate!
Update Oct 2021:
In 2020, despite the pandemic, the total value of orders across Alibaba's shopping platforms was $74.1 billion, which is about double what it was 2019.
Wow–with this event growing by the year, brands should definitely be paying attention and consider testing out a campaign for themselves!
Singles' Day originated in China in the 1990s as an "anti-Valentine's" event to celebrate being single.
In 2009, Alibaba, the Chinese eCommerce giant, took the concept and built an entire day's worth of an online sales event in 2009. It blew up! First-year in 2009, they made 7 million. In 2019, they made 37 million! Now, the event of this sale is widespread across the world.
Tips For Marketing on Singles' Day:
Work with a Chinese translator to create authentic, high-quality ad creatives and team up with an advertising agency to help you serve your ads on Chinese websites and applications.
Instead of advertising on Google, Facebook, and Amazon for the Chinese market, serve your ads on Baidu, WeChat, and Douyin etc, instead.
Embrace the theme and market your products or services towards bachelors and bachelorettes alike.
Restaurants can consider offering "table-for-one" dining options for a week. Bonus: this might be a viable, social-distancing option during this COVID-19 pandemic.
Not only is "Single's Day" is also a way to celebrate self-love and care!
Even if you're not planning to run native Chinese ads in the Chinese market, you can still participate in spirit! Many Western brands also host sales on their website, using their ad creatives to echo Singles' Day.
Welcome to the future.You might have heard the term "Web 3.0" pop up everywhere. It's the concept of the next generation of the Internet. Currently, we're at the Web 2.0 stage. Let's say you have an awesome Instagram account. Meta is the one that owns the content you...