As we enter the fall season, you can already sense that things are slowly shifting and settling into the "new normal". Can you believe it's already time to start planning for your holiday marketing campaigns for the upcoming season?
One of the blogs had discussed how to win Black Friday & Cyber Monday in 4 Moves. But that was in the yesteryears. COVID-19 has heavily impacted consumer trends and our everyday life.
We previously had a 3-part blog series on Navigating Marketing Through COVID-19.
In case you missed them, you can catch up on them here:

In this blog, we've done some research and organized insights and actionable tips to help you prepare your marketing strategy for this upcoming holiday season during this pandemic– holiday 2020 will surely be one to remember!
The topics we will cover are:
Demographics & Behavior Trends
Before we get into tips of holiday marketing, we should take a look at some demographic and behavioral trends to better understand our consumers' mindset.
With brick and mortar stores heavily impacted by the pandemic, the sales of online stores have skyrocketed, with people even ordering groceries online for delivery.
Pinterest released a report on Holidays for 2020. They highlighted a statistic:



Pinterest explains: "In the face of COVID-19 and stay-at-home orders, people are looking forward to looking forward. 2020 has been a hard year, and consumers are craving the comfort of the holidays. They want this season to feel more festive than ever before, and they're asking for brands to help them get there."
With the COVID-19 pandemic not subsiding yet as we enter into the Fall season of 2020, we can certainly say that this holiday season is definitely going to be a bit different. People may not be able to travel and visit family to spend the holidays and so it's easy to anticipate that we'll see an uptick in online shopping.
In fact, Facebook's recent survey proves just that.
Facebook Business conducted a survey to share with marketers around the world. They examined the 2019 holiday shopping behavior, COVID-19 consumer behavior as well as patterns from past economic recessions. We picked a few points that really stood out to us to share alongside our recommendations for winning this season of holiday marketing.
Uptick in Online Shopping Amongst Older Generation
Since COVID-19 started, 85% of consumers around the world have been shopping online. One of the interesting statistics that emerged from Facebook's study was that 80% of Generation X and Baby Boomers shopping online!
44% of Gen X and 30% of Boomers admitted to more time spent on online shopping.Almost half of the people surveyed in the study expressed that they would be inclined to shop online more frequently even after the outbreak is over.
Because the demographics of Gen X and Baby Boomers are increasingly participating in online shopping, think about if any online campaigns can be specifically targeted towards them. Consider value proposition, messaging and tone. It's important to convey sincerity, reliability and quality.
Actionable Item:
Gen X and Baby Boomers are online shopping more. Consider creating holiday marketing ads targeted towards them. Tweak your messaging and tone.
Preference For Mobile in Younger Generation
It's neat to see older demographics adapting to the new landscape of shopping. The leading age groups for online shopping are Generation Z and Millennials. They are most likely to be active on their smartphones, so it's recommended to have an optimized website for a better mobile experience. Look into Accelerated Mobile Pages (AMP) for quick load speed and easy navigation.
Actionable Item:
Gen Z and Millennials prefer mobile browsing and shopping. Ensure your website is mobile-friendly.
Need For Online Customer Support
Studies have shown that 75% of Millennials prefer text messaging over voice calls and to handle the influx of customer service inquiries for the holiday season, your business should have some type of messaging system in place aside from your customer service phone line. This could be a chat box on the homepage, Facebook messenger or automated texting apps. The convenience of this would be to pre-load frequently asked questions so questions/requests can be processed efficiently before being assigned to the right team members to solve.
Actionable Item:
It's recommended to have an online customer service messaging system on top of your phone line.
Anticipate Varying Shopping Behavior
Shoppers have different behaviors during the holidays. Some prepare and get their gifts early and others may be last-minute shoppers.

An interesting statistic from Facebook's report was that across different countries, the opinion on whether COVID-19 had an economic impact on their own day-to-day lives was split almost 50/50. This data shows that people are still very likely to participate in shopping for themselves and friends and family when the holiday comes. This is reassuring news for businesses!



Therefore, it's a good idea to start planning out your holiday marketing campaigns by the end of September and running them by November. This will allow your brand to make its rounds to shoppers weeks ahead of time and be on their mind throughout the season.
Actionable Item:
People are still planning to buy gifts for themselves and loved ones. Plan your marketing campaign out ahead of time!
Shoppers Gearing Up For Mega Sales
Another insight from Facebook's survey showed that over half of global shoppers have much higher purchase intent when mega sales occur.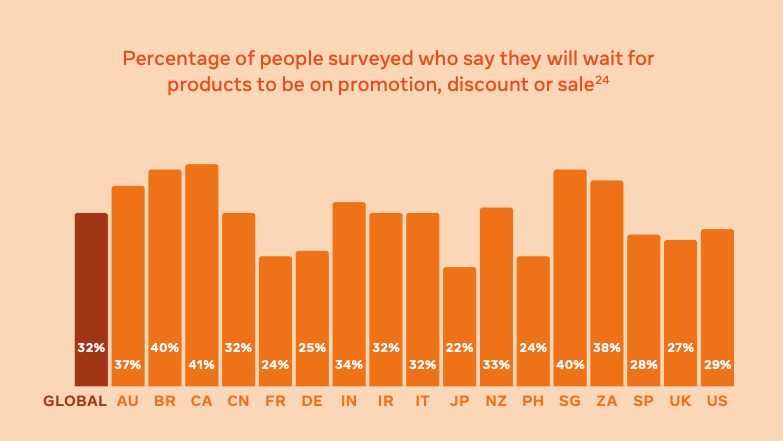 For example, Jonathan has his eyes set on the latest Go-Pro model since it came out earlier this year. But he is willing to wait for Black Friday, Cyber Monday or Boxing Day to get the best deal possible.

This behavior has not changed since COVID-19, but the purchases are most likely to be online orders, so we would recommend gearing up inventory for shipping out lots of orders instead of preparing for Boxing Day crowds in person.
Actionable Item:  People have higher purchase intent when it comes to mega sales and are prepared to shop! Get your inventory geared up to prepare for your online orders.
Digital Holiday Marketing Tips
Tweak Your Brand Message to Connect With People
For your holiday marketing campaigns' ad copy, think about fun and light-hearted messages that tie your products with quality, family and even "that quarantine life". In Google's recent article, they urge brands to recognize the fact that shoppers are still feeling vulnerable during this pandemic. This means advertising messaging that shouts, "look what you need" will not be appreciated. Instead, focus on positioning your ad message as "hey, we understand your needs and we're here to help". 65% of consumers say how brands behave will hugely impact what they will buy in the post-COVID-19 world.
Here is an example of a commercial launched by Kruger Products in the middle of summer 2020. The campaign message was "Unapologetically Human" and is relating their products to everyday life amongst diverse individuals and families, with to aim to be emotional and touching, rather than just selling the products.
We anticipate to see similar messaging in advertising when the holidays roll around.
It showcases to your audience that your brand is relatable and your products will bring value and improve their life.
Actionable Item:
Your brand message should be more about connecting with consumers. Sell less.
Consider Advertising Programmatically
Programmatic advertising is a type of digital marketing and did you know that 85% of the digital advertising in the United States is programmatic? Look for an advertising agency that is a Demand Side Platform, who connects brand advertisers to available ad space online.
Programmatic agencies have partnerships with thousands of ad platforms and can get your brand out in front of your desired audience on multiple channels and formats. This might include: Search, Social, Display, Video, Audio and even on digital billboards in high foot-traffic areas (this is what we call Digital Out-Of-Home [DOOH])!
Want to learn more about programmatic advertising? Here are some great articles for beginners:

Get your holiday promotions set in place. We recommend running Social Ads for brand awareness. Get people to see what your business is about. Once people have seen your ads, set up a retargeting campaign a few weeks (or months) prior to the season to fully promote your holiday products/services through Display Ads.
Actionable Item:
Programmatic advertising could be a big win when advertising on multiple fronts
Get Your Target Audience Down Pat
As mentioned in an earlier point, it's recommended for your holiday marketing plans mapped ahead of time. Maybe your brand tends to target a wider set of audiences during the holiday season compared to your usual niche. Be sure to have appropriate budget allocation and on-brand messaging for different demographics.
For example, if you are your usual target persona's favorite brand and you typically only advertise to them. Maybe during the holidays, your target persona's loved ones might buy something from you to gift to them. So be sure that they are within your reach.
If you work with a programmatic advertising agency, you can work together on creating a specific holiday marketing campaign with hyper-targeted audiences. It's important to get in front of as many relevant eyeballs as possible and it wouldn't hurt to start early.
Actionable Item:
You might expand your audience reach for the holidays. Be sure to have that prepared before you set up your marketing campaigns.
Festive Content To Complement Your Digital Marketing Plan
Digital Marketing encompasses so many facets and mediums. One important piece to compliment your holiday marketing efforts such as PPC campaigns like Search and Display ads is content.
Find ways to tie the holidays to your business and write blogs that are holiday-themed. Such as:
5 Best Healthy Thanksgiving Side Dish Recipes
8 Great Tech Gifts For Him
How to Host an Awesome Virtual Christmas Party
Find a way to weave in your products and link to other pages on your website!
If you have run Pay-Per-Click (PPC) campaigns in the past, then you will be no stranger to this tip. It's recommended as a best practice that your ad copy and creatives have a festive influence, which is directly referencing the holiday season.
For example:
"Get The Perfect Gift For Mom and Dad This Holiday Season"
"Seasonal Savings – 25% off"
Typically the accompanying imagery is richer and warmer in colour and has more winter-themed motifs in them such as gift-wrapping ribbons, snow, a family around a fireplace etc. It has a universal sense of warmth, togetherness and familiarity when one thinks of "holiday" which can be nostalgic and cozy.
Video has been dominating the content consumption field and viewers want more. In fact, 90% of consumers say that video helps shape their purchase decision, so think about your messaging as you convey your brand through video!
Actionable Item:
To complete your digital marketing strategy, build out festive content and highlight your products or services!
In-Store Holiday Marketing Tips
As mentioned in the previous point, brick and mortar stores took a hit from COVID-19. From restaurants to salons, business owners had to be agile and quickly pivot their operations to adapt. Here are some ways to bring your A-game when it comes to holiday marketing in 2020!
Many businesses have been proactive on social media in highlighting how cautious they are regarding COVID-19. For example:
Mask policies
Social distancing rules put in place (such as: 50% capacity)
Pictures of their team in Personal Protective Equipment (PPE)
Diligent sanitizing routines…and more

These are all great ways to leverage visual images and videos to highlight your brand, showcase your corporate social responsibility and give your consumers peace of mind. Make a lasting, good impression on the public by abiding by the rules and regulations (which may differ amongst different states and provinces). Now is the time to embrace the new normal–the sooner you adjust, the better.
Facebook and Google My Business etc all have built-in COVID-19 updates sections to help you maximize your communication.
Be diligent in updating your social media profiles to reflect your latest store hours and information. One of the worst things would be for a consumer to show up at your doors, eager to shop then realizing you were closed. This may lead to a complaint or a negative review online. Google My Business is crucial if you have changes to your store hours, so be sure that is up to date as that is how most people will search if you are open. Not only is this relevant during COVID-19, but also through the holidays!
Actionable Item:
Ensure all your social platforms reflect your most up-to-date store hours and are consistent!
It's no doubt that it's dark and scary times, with so much uncertainty. Why not embrace social-distancing rules at your business location, try and think of creative solutions to make it appealing and fun!
For example, if you are a boutique, maybe you can set up by appointment only, VIP shopping experiences. For example, you can set a $100 spending minimum but offer bubbly and strawberries for a more private and pampered experience.
Similar for restaurants, have your patio or in-door dining (safely distanced, of course) be by reservation only. This creates a sense of exclusivity and having a better, 1-on-1 experience empowers you to spend quality time with your client–you can convey your brand's message much better and also foster client loyalty.
Actionable Item:
Create a premium experience with the current social-distancing rules.
Offer Online Shopping, Delivery & Curbside Pickup
In our first main point, we discussed the influx of people online shopping. Whether for clothes, groceries or food. Many boutiques and restaurants that have never done delivery are now rising to the occasion and arriving at the doors of their consumers.
To sell products, think about using an eCommerce platform like Shopify, Etsy, Amazon or build a simple online storefront on Wix. Now is the time to get it kicked off in time for holiday marketing!
For restaurants that haven't offered delivery before but want to, think about whether you want to have your own employees carrying out the deliveries or use a food delivery platform. Compare platforms like UberEats, DoorDash or SkipTheDishes' pricing structure and find the best one for your business.
Curbside pickup has emerged from this pandemic as another desired form of shopping. The reason is because this format of shopping delivery is contactless and does not require the shopper to enter your store, which protects everyone's health and safety. Big box stores like Home Depot, Walmart have begun offering it and soon small, local businesses too. Restaurants and coffee shops have implemented these "mobile pickups" as well. Give the people what they want while abiding social-distancing rules? It's a win-win situation!
Whether you decide to offer delivery, curbside pickup or both, it will require some logistical planning and training for timely efficiency. Be sure you have the right type of packaging and enough of them! Stock up ahead of time to avoid inventory shortages.
Salesforce predicts that storefronts might transform into "fulfillment centers" for the holidays. This means that employees will most likely be busy packing orders, preparing them for shipping or curbside pickup. If you also anticipate this for the upcoming months, be sure to have a thorough plan, workflow and training for your team to be ready to tackle this holiday!
Get creative with new ways to reach audiences who may not have never heard of your brand before. This is definitely going to become the new normal in the future!
Actionable Item:
If you haven't already, consider curbside pickup or delivery to reach more consumers. There are several different platforms for different types of businesses that are very user-friendly.
Bundle Products or Sell Holiday-Exclusive Items to Offer More Value
Whether you are a boutique that sells goods or a restaurant that serves food, you might be open on the actual day of the holiday, or you may choose to be closed to enjoy this time with your own loved ones.
However, there are ways you can gear up for the holidays, whether you are open or not.
In the previous point, we mentioned the trend of Curbside Pickup. Try to tie that into the holiday marketing spirit. For Thanksgiving—not everyone bakes a turkey on this day and many will opt to dine in at a restaurant. You might not offer dine-in services at the time and because it's the winter time, it may be too cold for outdoor patio dining. Why not put together Thanksgiving Meal combos that are portioned for catering on a smaller scale with some a la carte options? During the week of the holidays, you can offer them exclusively to make cooking in the kitchen simpler. The seasonality and exclusivity of the offer may be a huge attractor for consumers. Don't forget to have enough take-out containers during this seasonal rush!
For boutiques and stores, shopping online and in-person is an entirely different experience. Many stores have bins of "impulse buy" knick knacks at the checkout aisles. With online, it's a lot harder to sell lower-price, add-on items. To combat this, brainstorm what smaller items could be bundled up with your bestsellers to offer more value to the consumer but have a pretty profit margin for you? For example, organic cotton bathrobes are your bestsellers. Bundle them up with smaller ticket items like bath bombs, bath salts, body scrub or face masks and you have a "Self-Care Gift Basket". People are looking for a good bang for their buck and appreciate the thought and care put into these pre-selected bundles. Invest in some baskets, organza pouches or ribbon and package your products up nicely, just like you do for the holiday season. Customers can either buy it to treat themselves or gift to others! These would be a great hit.
If you do decide to have a specific holiday promotion, you should be planning right now and getting the logistics sorted out. Keep track of your inventory. Then, think about running social advertising for brand awareness. Get people to see what your business is about. Once people have seen your ads, set up a retargeting campaign a few weeks (or months) prior to the season to fully promote your holiday products/services.
Actionable Item:
Think about bundling lower price items with your bestsellers to offer more value.
Looking to gear up digital marketing for the holidays?
According to Pinterest, in April of 2020, there was an increase of 70% of people looking up Christmas related content. The holiday season will be a big one but also different due to COVID-19. A lot of it will shift to online shopping.
You can anticipate your stores to become temporary fulfillment centers due to the sheer volume of online orders you may be receiving. If you aren't online yet or don't offer delivery or curbside pickup, it's recommended that you do to reach the more people.
The pandemic has gotten Generation X and Baby Boomers to embrace online shopping—80% of them! Consider them as a target audience. What would your value proposition and messaging be like? Think: reliability, quality and most of all, sincerity.
Online shopping will only become more popular among global consumers. In Facebook's recent study, over 40% of people expressed the likeliness of continuing to shop more online even after the pandemic ends.
With Gen X and Millennials still leading the age groups that do the most online shopping, businesses should look into improving customer service by online messaging tools for instantaneous communication and ensuring that websites have optimal mobile experience for users.
Digital Holiday Marketing Tips:
Sell less. Your brand message should be providing people with comfort and understanding.
Programmatic advertising could be useful in giving your digital marketing strategy an edge. You can hyper-target your audience, which may vary for the holidays.
Have your holiday marketing ads' copy and imagery be festive. Compliment that with blogs or videos that have holiday-themed content too.

In-Store Holiday Marketing Tips:
Social media is a good way to show the public your business is open and safe.
Show-off your social-distancing rules in place to give the public a good impression and peace of mind.
Update your Google My Business to reflect your hours correctly. Especially during the holidays.
Turn social-distancing into a premium experience. For example by appointment only, VIP shopping spree. Makes consumers feel safe and pampered.
There are many online platforms that make it simple for business owners to have an online presence and fulfill delivery.
Consider selling holiday-themed products and services exclusively the week-of the holiday to keep inventory efficient.
Consider bundling smaller ticket items with your bestsellers as gift baskets for the holiday season.