Microsoft vs Google Ads — it's an online ad titan showdown!
Google Ads have always been the king of PPC.
However, in 2020, marketers had spent a total of $7.8 billion on Microsoft Advertising (or previously known as Bing Ads), an increase of 35% since 2016. This means we should not underestimate Microsoft presence in the advertising game!
We are going to examine what PPC is, then take a look at the advertising options, user demographics, and more. You will learn about both types of ads and make an informed decision on which is best for your business.
Let's get this showdown on the road!
Here's the outline, feel free to skip to a section that interests you the most.
What is Pay-Per-Click (PPC)?
Pay-Per-Click is the most common digital advertising model. The primary goal is to drive website traffic. Because webpages and search engines have limited ad space, brands will need to compete in online auctions for ad placements. You set an advertising budget and bid based on how much you're willing to pay for clicks on your ad. Hence, you pay per click. For example, you're a churro company, so you bid on the keyword "churro." You determine how much you want to bid. Next, you enter online auctions to bid against other competitors on the word "churro." Finally, the highest bidder wins and gets the top placement. These factors determine your ad position:


Relevancy: how close your ad and landing page align with search queries
How your bid compares to your competitors' bids in the online advertising auction
Historical ad performance and Click-Through Rate (CTR)


A combination of these factors will determine your chance of "winning" the top ad position.
Note that there is no set price when it comes to PPC. It depends on your industry, seasonality (e.g., Christmas season), trends (eg. COVID-19), location keyword competitiveness, and the lifecycle of your customer.
We discussed Google and Bing Ads in the Paid Search section of our blog, "How to Choose the Right Advertising Channel". Yet, both of these ad platforms have PPC options that encompass more than Search Ads. Both also offer: Display and Shopping Ads. We'll break them down one by one, Microsoft vs Google Ads style.
Before we dive into that, here's a quick overview of Microsoft and Google and their user demographics.
An Overview of
Microsoft Advertising vs Google Ads
Microsoft Advertising / Bing Ads
Bing is a search engine owned and ran by Microsoft. It provides services such as web, image, maps, and video, etc. Bing Ads is the name of their advertising service but recently was renamed 'Microsoft Advertising' in 2019. This is because Microsoft's ads can now serve on Bing, Yahoo, MSN, and AOL networks.
Microsoft Bing User Demographics
Bing primarily makes money from Microsoft Advertising. Here are some important facts to note about the Bing user demographic:


85% of people who use Bing are in the US
Bing accounts for 30% of all searches in the US
87% of Bing users come from Internet Explorer
Bing's user demographic leans towards blue-collar when compared to Google
Over 70% of users are aged 35 or older
The average age of Bing users is 45 years old
46% of users are married
30% of users have children at home
38% of those who use Bing have a household income of more than $100,000

Even though Bing only accounts for about a third of the US search engine market, it performs very well in specific industries. For example, 44% of business and finance-related paid search ad clicks are from Bing!
Google is a tech giant that offers the world's most used search engine, cloud drives, products, software, and much more. Google Ads is Google's online advertising platform. Ad offerings include Google search, third-party websites, mobile, Youtube, etc.
Google User Demographics & Facts
Here are some facts that demonstrate Google Ads is a powerhouse:


Google has over 1 billion active monthly users
Compared to Bing, Google's users are younger and more tech-savvy
Google's userbase demographic is pre-dominantly white-collar
An average user spends 12 minutes every day on Google
80% of all companies focus on Google Ads for their PPC strategy
Google.com is the most-visited domain in the world
Google processes 40,000 search queries every second
Google owns 73% of the Paid Search market
Google generates 62% of all search queries in the US
Paid Search:
Microsoft vs Google Ads
Paid Search is known as PPC, where your business shows up in Search Engine Result Pages (SERPs). The purpose is to appear in front of potential customers so they can find your product or service.
Paid Search ads require planning, strategy, and ongoing management. You need to:
Craft keywords
Write compelling copy
Make bid adjustments on the go and more

A combination of these factors will determine your chance of "winning" the top ad position. Advertisers use Paid Search to:


Rank better amongst competitors
Capture people with high purchase intent
Hyper-target audiences based on their demographic, and interests, etc
Make data-driven decisions while having control over ad dollars


Types of Microsoft Search Ads
Dynamic Search Ads look like Expanded Text Ads but show up for relevant search queries based on your website content. It's a great option because auto-created ads can now show up in relevant search queries. It saves advertisers time: no need to create keywords etc. Furthermore, it fills in the gap for missed opportunities!
Responsive Search Ads require advertisers to provide a list of headlines and descriptions. Microsoft will mix and match them based on what would be the most effective combinations!
We will cover this in the Shopping Ads section below.
Types of Google Search Ads
These consist of only words. Advertisers can use ad extensions to expand the text with more detail and improve the relevancy of the ad.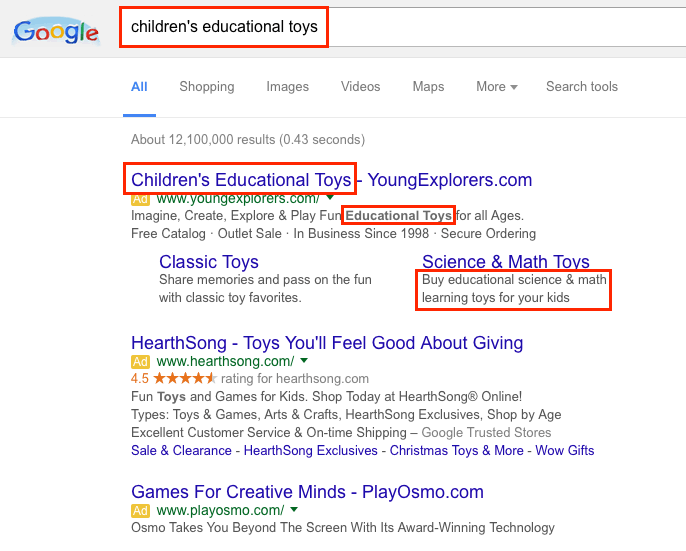 Advertisers provide a variety of ad headlines and descriptions. Google Ads will automatically test out combinations and find out which ones performed best. It can then adapt your ad content to closely match user search queries to improve your campaign performance.

This type of ad only requires you to provide creative descriptions. Google does the rest: they generate headlines and landing pages based on your website. It saves you time and keeps up to sync with advertisers' websites. Google recommends this for brands with a large inventory or a well-developed website.
A text ad that includes a Call-To-Action button to drive direct phone calls to your business.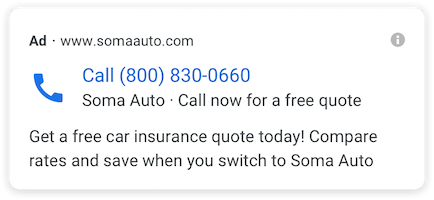 Display Ads
Microsoft vs Google Ads
Display Ads are visually-gripping banner ads, and come in the format of static images, GIFs, videos, etc. They are served in designated online ad spaces like websites, social media platforms, apps, and other channels. A Display Ad usually includes a primary image, ad copy, and a Call-To-Action (CTA) and directs the user to a landing page. Brands use Display Ads to:


Build brand awareness
Retarget audiences
Drive website traffic, conversions and so much more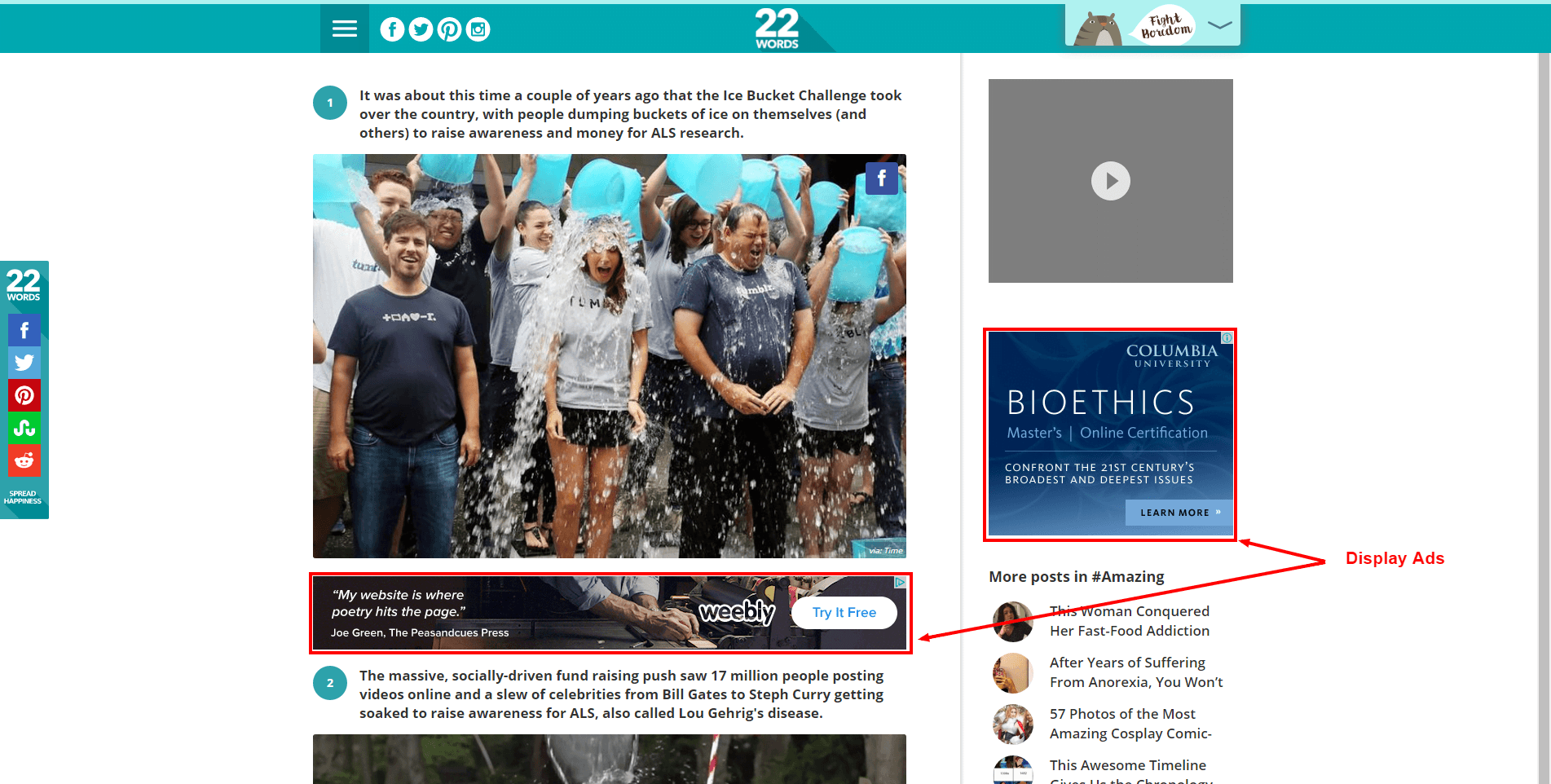 Microsoft can offer Display Ads across display, mobile, native, and video channels. It reaches audiences across the following properties owned by Microsoft:


Microsoft Edge
MSN
Outlook
Windows
Xbox

These banner ads have contextual placements across websites. They are usually integrated into blogs, which offer users a seamless on-page experience.
The Google Display Network serves Display Ads across 2+ million websites and apps. It's estimated that the network reaches 90% of all online consumers. The delivery of Google Display Ads can be in image, video, text, and other formats. It also offers a variety of audience-targeting options, including retargeting. There are a few ad types available through the Google Display Network. Let's take a look!
Advertisers will provide ad text, image, and logo. Google will generate ads in different measurements automatically. Then, serve only the most effective combinations across ad inventory available. The delivery of these ads is "native," which means they blend in with the publisher's site.
Advertisers can upload ads in different sizes and serve them across the internet.
Video or image ads can be run across the Display Network and Youtube.
Expandable banner ads are shown at the top tabs of people's Gmail inbox.
Shopping Ads:
Microsoft vs Google Ads
People know what they want — and they rely on search engines to look for and purchase the right product. For example, someone looks up: "men's brown sandals size 11". Brands who carry products matching this description and run Shopping Ad campaigns would show up for them. Both Google and Microsoft Bing's search results feature Shopping Ads. They share a similar layout: product image, name, brand website, and price. Users can sift through the results, click on a product they're interested in, go to the product page, and buy it! Shopping Ads streamline the process of online shopping. They capture users with high purchase intent and drive direct sales online.
Here are three benefits of running Shopping Ads on both Bing and Google:
Stand Out From the Crowd
Shopping Ads show up at the top or sidebar of search results, which are optimal ad placement areas. Plus, visuals of your product make it pop.
Take Up more Real Estate
You could show up multiple times in search results. How? If your brand runs Shopping Ads in conjunction with Search Ads and has decent SEO, you could show up in the shopping ad section, the text ad AND organic search!
Set-Up is Easy as 1-2-3
You sync your eCommerce website with Google or Microsoft. Your product listings directly feed into the ad platforms!
Microsoft Bing's shopping ads are known as "Product Ads". A Product Ad includes images from your website's product catalog, promotional text, price, and brand details. Here are some impressive stats about Product Ads:


Bing Shopping ads have a 45% higher Click-Through Rate (CTR) than Google.
The average Cost-Per-Click (CPC) of Bing Shopping Ads is 30% lower than Google's.
Bing's Shopping Ads' average Cost-Per-Acquisition (CPA) is 40% lower than Google.
The average Bing user spends 35% more when shopping online, versus on Google.
There are two types of Google Shopping Ad formats: product and showcase.
Product Shopping Ads have an image of the product, description, price, and the hyperlink directs users to your website.



Showcase Shopping Ads has the product image and description which expands when clicked on. It then showcases other related products on your website.


Pros & Cons: Microsoft Advertising vs Google Ads
Pros of Microsoft Advertising
Aside from Microsoft Bing, you gain access to several different networks, including Yahoo and MSN.
It captures an entire user base that Google can't.
Bing ads cost less than Google; they have an average lower Cost-Per-Click (CPC).
Bing is great for targeting US audiences that are: older, blue-collar, and with higher income.
Bing shows more ads at the top of the search results page, allowing people to find brands easier.
There is less competition for desirable keywords.
Cons of Microsoft Advertising
As the second-largest search engine in the world, Bing has a smaller market share.
A smaller market share also means less traffic.
Bing is predominantly used in the US, which means you're less likely to reach international audiences.
Google owns the largest market share in the search engine industry.
Google has robust keyword tools for advertisers to explore and grow campaigns.
The Google Display Network connects to over 2 million third-party sites. This means your ad reach is endless!
Google Ads can complement your SEO efforts and amplify your presence in Google search results.
Google Ads have strong retargeting capabilities.
Google provides excellent data insights for advertisers to make optimizations.
Competitive keywords can cost a lot but are not necessarily effective.
Google Ad campaigns are complex, which will require a lot of time and hands-on management.
Your budget can limit your campaign — once your dollars run out, your ads turn off.
Should I Use Microsoft or Google Ads?
Phew, we know that was a lot of information to take in. We hope the comparisons of Microsoft Advertising vs Google Ads can help you decide which one is right for your business!
When it comes to marketing, our approach is never to put all your eggs in one basket. A multi-pronged approach is ideal for reaching audiences across channels.
So, if you plan to advertise in North America, we recommend running Google and Microsoft Ads concurrently.
If you would like to break into the US market, Microsoft will make a difference in penetration into the middle-aged demographic.
If you have a tighter budget and can only go with one platform, go with Google Ads. It offers more advertising options, and the audience reach is unparalleled.

Pay-Per-Click is in constant ebb and flow. Advertisers need to be on top of their game to monitor and adjust bids for optimization. It is time-consuming and can be a challenge if brands don't have the time or familiarity with the platforms. For this reason, we recommend you consider working with an agency, who are Certified Ad Partners of Google and Microsoft can offer expertise.
Take War Room, for example. They plan and execute customized campaigns. Their experts make real-time adjustments to ensure the ads are always performing optimally. Then, they help identify opportunity gaps to improve your current and future campaigns.
An agency can take over the technical and complex parts of digital marketing, saving you time and wasted ad dollars. Plus, you get more time back in your day to focus on what you do best.
Whether you choose to go with one or both channels, Microsoft and Google can boost your online presence and drive conversions. Find a way to incorporate it into your advertising strategy today!
Kick-Ass PPC Ads Start Here
Say hello to customized advertising strategies that convert.
Let's talk strategy today!