Programmatic advertising companies do WHAT with your money?
It can be daunting for brands when they first step into the bright and promising world of Adtech, Artificial Intelligence (AI), and machine learning. There are a lot of red flags you'll want to avoid and make good budget decisions.
There are many digital ad agencies that hide behind jargon, complex tech and bad practices that bank on brands not knowing these incredibly important aspects of the online ad business.
As an agency that specializes 100% in programmatic and over a decade of experience in the industry, we're here to spill the tea and discuss:
The Disadvantages of Programmatic Advertising
From fraud, to bots, to outrageous pricing structures – we will make sure that by the end of this post you know what to look for and expect from an honest, quality programmatic ad agency. You will learn about the ways unethical programmatic agencies operate, what problems you stand to face and how to avoid these risks in the future!
Here are the topics we will cover:
The Reality of Ad Fraud in the Industry
37% of ad buyers are worried about ad fraud.
And they should be. One of the biggest disadvantages of programmatic advertising is that the landscape is littered with bots, abusive vendors and other non-human traffic sources.
You see the problem – if you base your Return On Investment (ROI) on impressions, or just views, it's easy to fake them. If your ad agency isn't addressing these concerns, something is wrong.
According to a Bad Bot Report, 38% of all online traffic during 2018 were from bots. Some of them are good, and some contribute to escalating digital ad fraud in the programmatic space. 
The bottom line is that fraud costs advertisers billions in revenue every year.
Your programmatic advertising company should be taking steps to reduce fraud, so that your campaign data is more accurate. That way your ROI will be higher and easier to replicate.
Among the steps you should check on are whether your DSP works with verification vendors, and if they've implemented Ads.txt to minimize bot responses.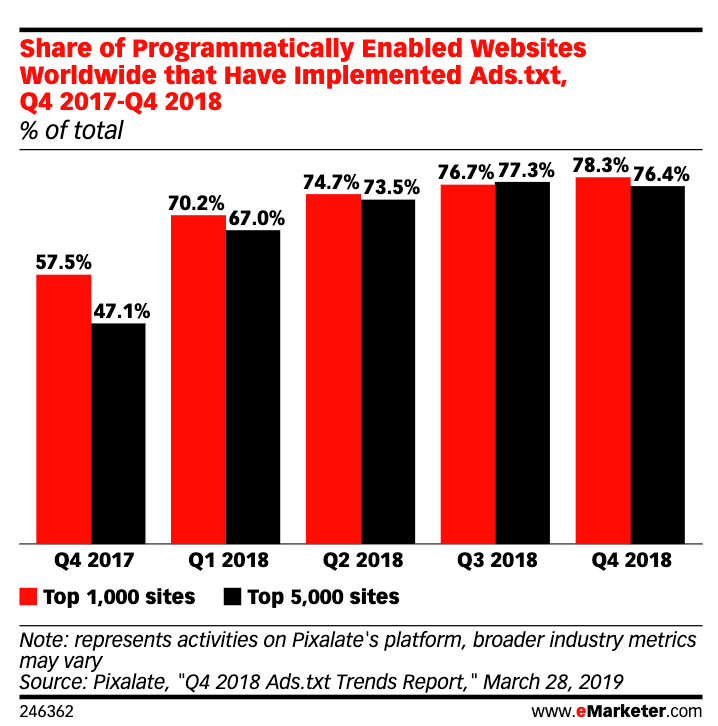 As you can see from the graph above, many – but not all sites use Ads.txt so checking if it is being used is a good idea for your brand.
Key Takeaway: Always check if your programmatic ad partner is taking steps to reduce fraudulent ad activity in your campaigns, for improved data accuracy, metric insight and overall ROI.
Why Viewability of Ads is a
Cause for Concern
As an advertiser, you want people to see your ads.
More to the point, you only want to pay for ads that have the potential to be seen. This means making sure that your money is being spent on the best possible ad inventory.
Ethical, competent programmatic advertising companies make sure that your ads are shown to relevant, highly targeted, likely-to-act audiences.
This requires a blend of programmatic strategies, across multiple platforms – involving direct and omni-channel buys.
Viewability is a key metric when understanding ad ROI. And it's a complex metric attached to so many other areas of programmatic media buying.
Things like audience targeting, context, and platform choices determine if your ads are being seen by the right people, at the right time in the right place.
In many ways this issue goes hand-in-hand with the measurement issue. Understanding metrics, what to measure and what constitutes an ethical view is part of the process.
According to IAB's South East Asia Viewability Report, one of the few done on industry viewability rates in the world – ads are viewed about 53% of the time.
It's important to note that few standards exist for platform variations. For example, a person scrolling on Facebook who stops to watch an in-stream ad has higher value than say – a display ad. 
The views however, are measured the same way and given comparable weight.
Key Takeaway: Understand that ad viewability is an ongoing issue in the programmatic ad space, and it helps to partner with a digital ad agency who actively works on solutions.
How Brand Safety Should Be Your Main Priority
Beyond things like viewability, another disadvantage of programmatic advertising is the concern of
brand safety
.
We've already mentioned what happened to JPMorgan Chase – and these sorts of issues crop up everywhere, especially on social media.
Facebook and Twitter are hotbeds of controversy, and they have the power to bring a large brand to its knees if audience sentiment changes.
It's important that your audience trusts your brand. That means you need to take a hard look at your programmatic ads and how you're creating your ROI.
Where you place your ad matters!You can be guilty by association/affiliation
What is the tone of your content? Negative content causes a 2.8X reduction in consumer intent to associate with your brand
You need to avoid inappropriate, illegal, fake or scam content
The Interactive Advertising Bureau, (IAB) has gone to great lengths to educate advertisers about brand safety, outlining categories that they can avoid to minimize harm, and amplify brand safety for clients. They listed these 13 categories as what advertisers should avoid to ensure brand safety:
Obscenity
Drugs
Tobacco
Military conflict
Arms
Adult
Crime
Death/Injury
Online privacy
Hate Speech
Terrorism
Fake News
Spam/harmful sites
Key Takeaway: Programmatic advertising is only safe for brands when teams with the right expertise are managing their online ads. Human review is essential to maintaining trust between brands-consumers.
How to Choose an Ethical Digital Advertising Agency
So you see, brands in the programmatic ad industry are heavily reliant on the teams that they choose to hire.
The wrong partner exposes your company to the potential of misuse of your budgets, ad fraud and campaigns that aren't correctly measured or optimized. It can be a minefield.
It's time to say no to the disadvantages of programmatic advertising.
What makes the real difference for brands are: human intervention, strategy and ad expertise.
With this in mind, we're going to give you 4 quick and easy steps that you can use to choose a competent programmatic agency.
Step #1: Explore Their Business Model
A digital marketing agency that has 'programmatic advertising' as a tacked-on service is less likely to know what they're doing, or have a specialist team doing it.
Full-service agencies are great, but honestly – they're not a good investment. If you need programmatic ad buys, you have to look for a company built for this purpose.
We have a blog that covers the differences between Marketing Agencies and Advertising Agencies.
Step #2: Look at Their Results
Before engaging in meetings or hefty team schmoozing sessions, look at the company's results. Ask for case studies or testimonials. Programmatic advertising is results-driven, so if they don't have any, that's a red flag.
Also take note of the level of success they achieve for their clients, and if their clients have been happy working and collaborating with their team.
Step #3: Ask About Their Team
Is their team made up of digital marketers or data scientists? Don't be afraid to ask probing questions about how they hire their account staff.
These are the individuals that will be managing your brand on the internet. You want to know they're educated, experienced, and have impeccable track records with data analysis.
Step #4: Ask How They Address Industry Problems
You've just learned about all the key issues facing programmatic advertising. Your chosen company should not only be aware of these issues, but actively working to combat them.
Chat about transparency, measurement, brand safety, ad fraud and viewability to get a strong idea on how they approach these important challenges.
Key Takeaway:
Choose a programmatic advertising agency with:
The right business model (one that specializes in programmatic ad buys)
A track record of successful programmatic ad campaigns
An educated team that understands data analytics and strategy
A working solution for every industry problem
We hope you feel more orientated on the challenges and disadvantages of programmatic advertising. It's important to understand what your brand team could potentially face in the ad tech space.
There is always going to be a certain level of mystery when it comes to programmatic advertising. The best you can do is to partner with responsible programmatic advertising companies that have your best interests at heart!
When you do, you'll find the promise of programmatic ads easier to understand and reach for. That means you'll be the settler that eventually strikes gold in the Wild West (and doesn't get shot in a dusty back alley after hitting the saloon)!
Disadvantages of Programmatic Advertising:
Some agencies cash in on client ignorance around ad tech
Inconsistent measurement and metrics of data
Lack of agency transparency (pricing and hidden costs)
Lack of visibility on third party sites
Ad fraud<
Viewability of ads
Risk of Brand safety
Bot Traffic
Poor inventory quality
That doesn't mean programmatic ad tech can't be cost-effective and drive performance-driven results. You need to look for trust-worthy programmatic agencies that are experienced and transparent.
Here are important factors to look for in a programmatic advertising agency to team up with:
Ensure they have the technology stack and human expertise
Make sure the team is experienced in strategy and data analytics. They should have digital marketers and data scientists on the team
Make sure there is transparency in pricing. No hidden fees and know that your ad budget is actually being spent on buying ad space and not on tech tax
Get a good understanding of your chosen agency's strategies, methods and processes.
See if they have a good track record when it comes to client projects. Ask to see their portfolio or case studies to determine if they're a good fit for you
Double-check that your ad partner is proactively helping you reduce ad fraud activity in your campaigns. That way you can receive accurate data for insights and better return on investments
Viewability of ads is an ongoing issue in the programmatic space, so be sure that your partner actively works on solutions for this
Brand safety is incredibly important for your business and it should be for your ad partner too. Make sure your ads are being managed and delivered properly and don't be afraid to ask to see what your ads look like and where they are served
Did you know that 92% of the online population uses emojis? It basically transcends language and culture!Emojis are a fun way to express ourselves online when communicating with others. Not only does it make conversations with friends online easier, but emojis can...