So you're trying to get a better understanding of programmatic advertising and you'd like to see some examples?
As a marketer, it's important to know how other brands are succeeding online with automated ads. That's why we've put together a master list of examples that will inspire your next big idea.
Go ahead and skip to the programmatic advertising examples that leap out at you as you browse.
There are a lot of moving parts when it comes to running an extraordinary programmatic ad campaign. Think of this post as the spark that will set your idea generation machine on fire!
It's great if you're prepping for a meeting on your programmatic creative, or you're searching for interesting ways to better convert your customers and optimize your ad spend.
From new innovations with social media advertising, to getting the most out of your in-stream ads – this post walks you through the programmatic ad concepts that are getting the most traction online.
Here are some of the most genius ad campaigns that have been run over the last few years. Grab a pen or take mental notes, you'll want to remember these big ideas.
How Auto Trader Achieved a 90% Reduction in CPA
At the top of our list of great programmatic advertising examples is Auto Trader – the giant digital automotive marketplace that has over 450,000 listings every single day.
They were a big winner in the Programmatic and Performance Marketing Category at the Marketing Week Masters Awards in 2018.
Buying and selling cars online is an incredibly competitive niche. Even though Auto Trader attracted 55 million cross-platform visits every month, their click results weren't what they should be.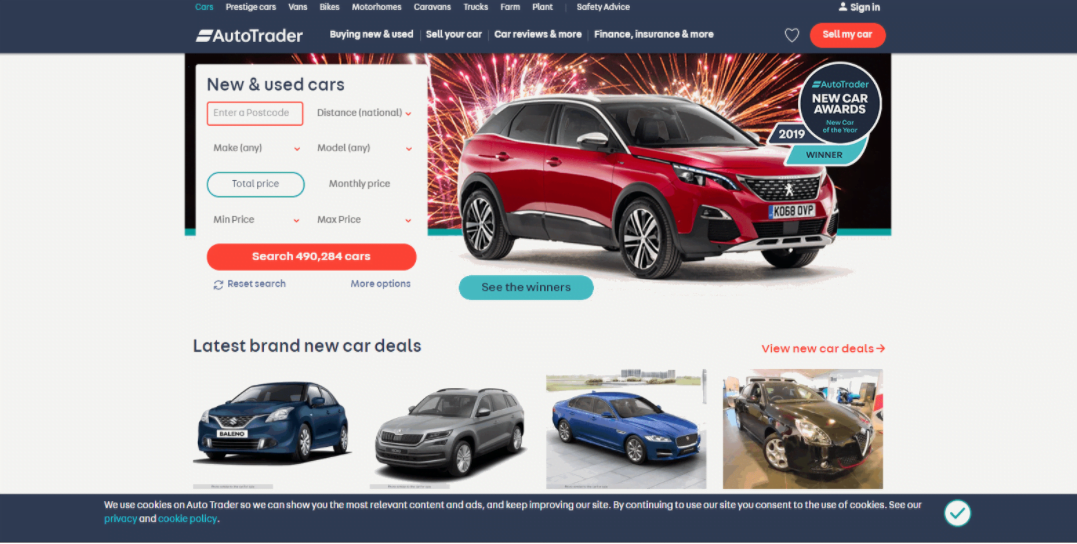 The company had its own in-house programmatic trading team, but targeted digital campaigns were still intensive to run – and optimizing ad spend was an increasing concern.
So, they pivoted and partnered with a new Demand Side Platform (DSP) which allowed them to precisely select the high-value audiences they wanted to reach. Campaign goals in hand, the new machine learning algorithms worked to make their limited ad investment smarter.
Automating their campaign meant only having to pay for customers who were most likely to click on their ads! Plus, the in-house team had more time to manually test and tweak the strategy.
Finding the right DSP led Auto Trader to an incredible 90% reduction in their cost-per-acquisition (CPA), over a 6 month period. With an additional 3 hours saved each day, Auto Trader can now focus on their programmatic creative to extend their brand reach.
In-house teams can quickly be overwhelmed with work
Partner with the right Demand Side Platform (DSP)
Highly competitive markets require agency assistance
Finding the right audience is an effective way to reduce Cost-per-Acquisition (CPA)
How John Lewis Achieved a 346% Higher ROI on Black Friday
John Lewis is a UK-based department store known for its high-end merchandise.
Like many retailers impacted by the Millennial market, John Lewis has reported that their profits had dropped over the last few years.
In an attempt to turn things around, the brand partnered with a DSP and set out to buy programmatic ad inventory over the notorious Black Friday weekend, and in the lead up to key days.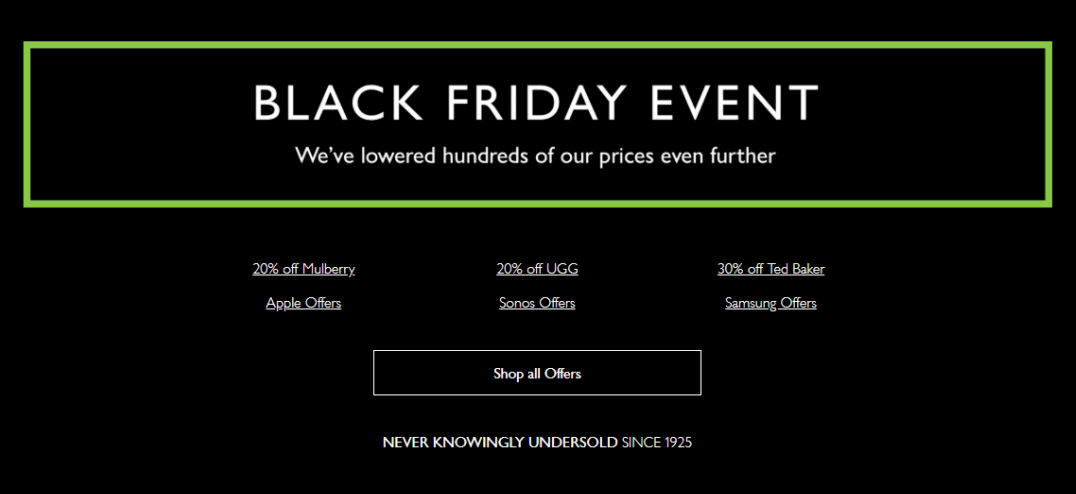 Using historical data, the team theorized that people did a lot of research leading up to Black Friday. To reduce inventory and higher bidding costs, John Lewis set up private marketplace deals with premium sites leading up to the bigger days.
Their DSP created an innovative strategy called 'programmatic guaranteed' which made it possible for the company to secure significant cut-through for millions of ads during Black Friday.
They partnered with The Telegraph during Black Friday weekend itself. This programmatic direct deal was highly targeted and efficiently optimized.
The strategy helped John Lewis avoid the oversubscribed and significantly increased costs of digital ad inventory available on the programmatic marketplace over this time period.
There is always a huge demand for prime ad space over Black Friday. By partnering with a reliable DSP, the struggling company managed to reach high-value customers at the right time, without the inflated marketplace costs.
This resulted in a Return On Investment (ROI) that was 346% higher than their proposed target! The strategies created a record-breaking Black Friday income for the brand.
Key Takeaways:
On big event days, innovative programmatic strategies can amplify ad ROI
Reduce inflated marketplace costs with programmatic direct and private deals
Optimize private deals using programmatic for highly optimized ad outcomes
How Lacoste Generated 19,749,380 Impressions and 2,290 Sales with Programmatic Display Ads
One of our favorite programmatic advertising examples is from 
Lacoste
 – a well-known French designer brand, with a green crocodile logo. The fashion industry is particularly competitive online. But it's not always the most creative or innovative who wins. Sometimes, it's about getting the basics right. During the summer sale period, Lacoste planned to amplify sales in three key markets – France, the UK, and Germany. It would be an omni-channel marketing campaign that used programmatic display advertising to personalize content and improve sales.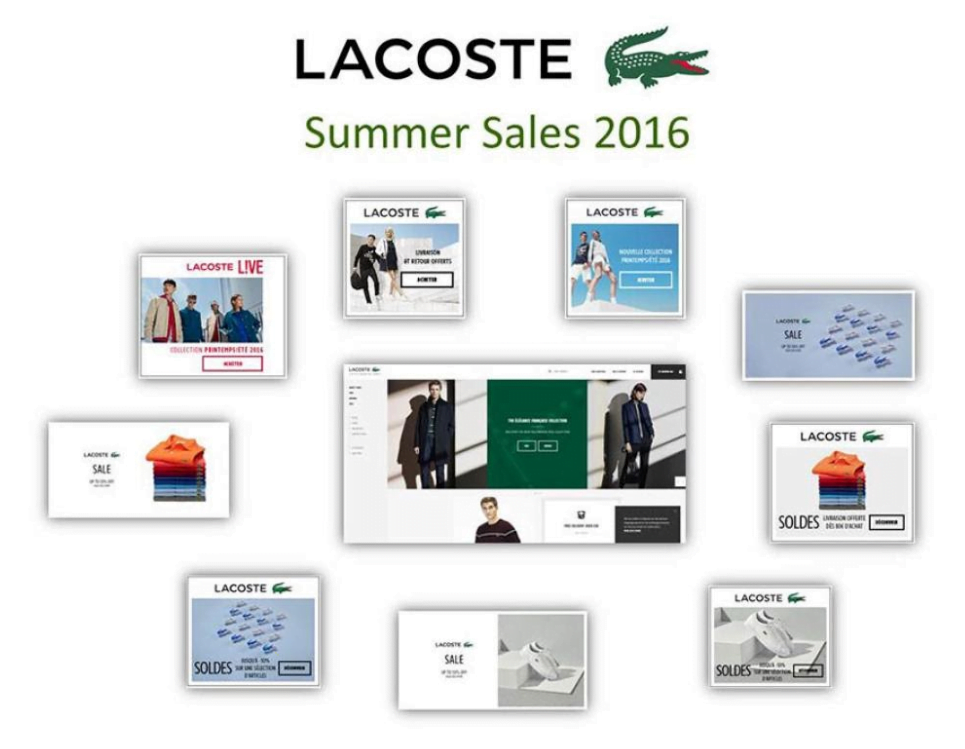 By targeting key audiences using programmatic technology, Lacoste created an award-winning campaign that exceeded their goals. Using accessible customer data, profiles were built on each customer after extensive audience analysis. This allowed the Lacoste team to segment customers, target and retarget them using a range of programmatic methods. Where the campaign stood out was in its A/B testing. They sank significant resources into testing and resting their creative media. Improving these and rerunning the ads pushed the performance of their media until the maximum potential was achieved. They tested everything – from the creative media to the marketing channel, the daily ad spend and the banner format. They successfully enhanced their campaign by split testing results. By the end, Lacoste generated 19,749,380 impressions and a total of 2,290 sales across their key target markets.
Key Takeaways:
Focusing on the basics can significantly improve sales and reach
A/B testing and creative improvement is important in programmatic advertising
A campaign is only as good as the real-time campaign adjustments made
How IHG Hotels Used Programmatic Ads to Disrupt the Metasearch Industry
The Intercontinental Hotels Group (IHG) is a global brand that owns popular travel destinations like The Holiday Inn and Regent Hotels.
For a long time, metasearch companies like Booking.com and Travelstart.com have helped customers find the best prices for hotel and travel bookings online.
Unfortunately for hotel brands, this means a middleman that has created the impression among customers that booking direct is no longer the most affordable way to book experiences.

After analyzing data on how people book hotels, IHG discovered an interesting statistic.
There was a 20% shift away from booking directly to using metasearch sites was in effect. People wanted the best prices, and comparison sites were meeting that need. But the need was based on a lie.
Their response to this information was to create a programmatic ad campaign that dispelled the myth. Best of all, they could target people who were already looking for specific hotel prices.
By offering them a 'book direct option' much of that traffic was returned to the hotels themselves.
COO Matt Luscombe added a lowest price promise, to make sure customers knew they wouldn't get a better price on any other site. Coupled with advanced targeting the programmatic creative campaign was hugely successful.
The Intercontinental Hotels Group is eager for other travel brands to adopt these methods, so that the industry focuses back on improved guest experiences.
Key Takeaways:
Programmatic advertising can disrupt your industry
Used creatively, it can educate and convert specific customer segments
This is especially true for highly competitive markets and large brands
How Unilever's Axe Romeo Reboot Tells a Story 100,000 Different Ways
Unilever, the company behind Axe Body Spray has always made creative media central to their digital marketing campaigns.
Getting Millennial men to watch any sort of ad was a challenge.
Research showed that their users aged 18-24, were also the top users of ad blocking software. They wouldn't be reached by anything less than visionary.
A couple years ago, they got into programmatic advertising in a big way – and really wanted to explore the limits of personalized content.
So, they decided to do just that for their white label line in Brazil, basing the campaign on the story of Romeo and Juliet, with a twist.
They called it 'generative storytelling' and it involved creating 100,000 unique 1 minute trailers that were based on their users' individual tastes.
Instead of showing the same video to every user, now every user would get their own video – personalized just for them, based on their data and profile.
This was personalized content marketing using programmatic technology for enhanced delivery.
Content was created to resonate with specific market segments, and if the user was tagged as having one of their traits, the video storytelling engine would customize it in real-time.
On launch, some 43,000 unique videos were created every day. This non-linear form of storytelling surpassed client and agency benchmarks by 10-20%.
We thought this was a really interesting programmatic advertising example that leveraged video advertising!
Key Takeaways:
Difficult target markets can be penetrated with creative and programmatic ads combined
Creative programmatic media is a powerful tool for cutting through the clutter
Personalized storytelling helps your brand make an impact
How O2 Created a 128% Better CTR with Creative Programmatic
O2 is a huge Telecom company that sells mobile phones and various kinds of connectivity.
They had been using TV ads for a while, but these ads weren't having much of an impact. The brand decided to refresh what they had, and run it for a mobile audience using programmatic advertising.
The repurposed TV ads kicked off the O2 Refresh Campaign.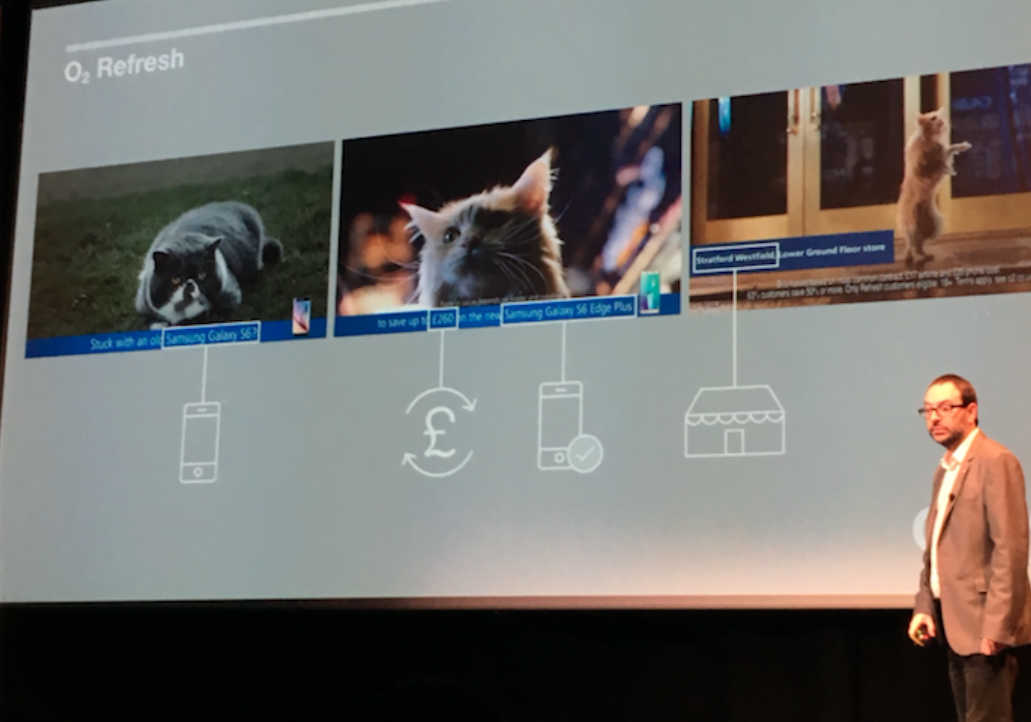 Infusing their creative media with data insights from mobile user data, O2 managed to hyper-personalized each ad. They drew from a vast number of data collection points and assembled profiles on every individual based on their O2 account activity.
When advertising to a mobile user, O2 could tell them useful things – like when they should upgrade, what they should upgrade to and what other people had done when faced with the same process. It was an incredible campaign that combined data with creative advertising.
O2 created over 1000 versions of their video ad, which could be integrated with their user's device and location in real-time.
The result of their mobile refresh using programmatic advertising were that ads had a 128% better click through rate (CTR) than their old television ads did. Wow!
Key Takeaways:
Leverage your data to create hyper-personalized programmatic ads for best results
Creative ads convert better when they appeal to specific users or customers
Repurposing and refreshing old campaigns can be lucrative when automating ads
How Amanda Foundation Finds People for Shelter Animals
The next programmatic advertising example is from The Amanda Foundation – a non-profit organization that teamed up with their agency to increase animal shelter adoption rates.
Los Angeles is home to many abandoned dogs and cats that have ended up in kill shelters. The Amanda Foundation works to save them.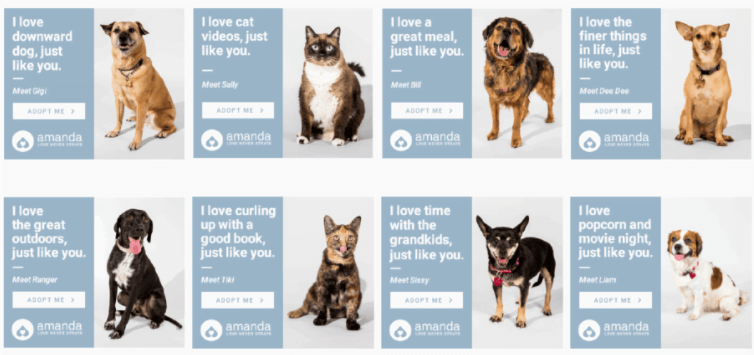 Programmatic advertising campaigns are incredibly valuable to these non-profits, who struggle to find homes for rescued animals.
With the Digital Pawprint creative campaign, the agency developed targeted banner ads that appealed to people based on their personal digital behavior.
Images used in the campaign were of actual animals available for adoption. Breeds were matched with hobbies and character traits that would convince users to click the ads.

A single, female reader for example, would see an ad of a cat that read 'I love curling up with a good book, just like you.' An athletic person would see an ad for a pit bull that loves to run.

Using the right data, Amanda Foundation managed to target the right people, which resulted in more adoptions for the shelter. Using programmatic media and creative technologies, they continue to help match pets with their humans.
Key Takeaways:
Programmatic media has the power to help brands find and reach the right audience
Targeting specific segments with unique media increases conversions
Even the most basic data can be used creatively to improve campaign impact
How Missing People Found 20% More Kids Using Programmatic
Missing People is a British charity dedicated to finding lost kids across the UK.
Fundraising and Communication Director Ross Miller cited a small ad budget as one of their biggest barriers to crossing from print into digital advertising.
They started with donated outdoor space and have since transitioned to targeting specific locations with programmatic advertising – which these days is critical to finding missing children in time.
"It saves lives," says Miller.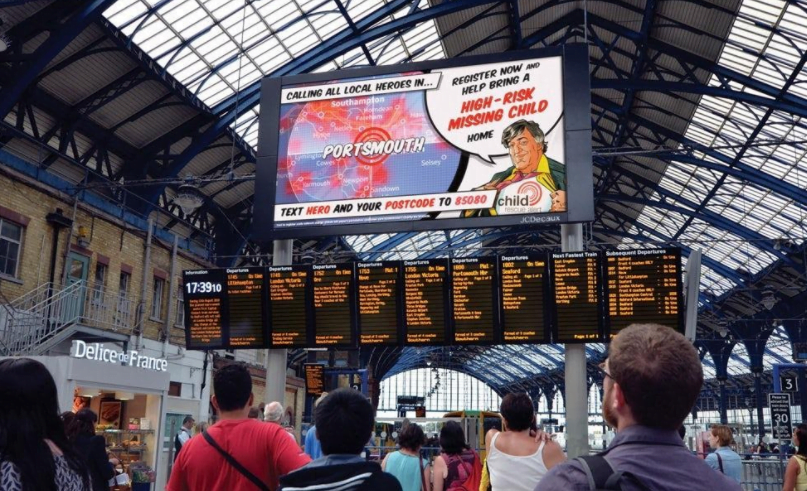 When programmatic is combined with outdoor advertising, it allows them to immediately replace the space with another missing child, if one is found. So in terms of resource use, it's more efficient and timeous.
Miller goes on to say that 50% of the children they appealed for were discovered alive with outdoor advertising, and this grew to 70% once their programmatic campaigns started running.
Using social media platforms like Facebook, Missing Children uses location-based alerts when a child goes missing in a certain area. That alert will appear in a local's newsfeed, and they are more likely to share it, and respond to it.
The team has also launched a Child Rescue Alert system that sends out messages as soon as a child goes missing. Using targeted real-time ads on their outdoor spaces – they managed to get 44,000 people to respond to the campaign.
That's in sharp contrast with a previous campaign done without programmatic advertising, which only received 10,000 responses from print and PR.
Overall for Missing People, programmatic ads have streamlined the way they reach people, with a 20% increase in recovered children, and more than 3X the response for a local outdoor campaign.
Key Takeaways:
Programmatic ads can be used on many platforms, including outdoor spaces
Location data can drastically improve response rates in a meaningful way
Programmatic can unify and streamline all other digital advertising opportunities
How The Economist Got 3.6 Million People to Take Action
Another incredible example of programmatic display advertising comes from The Economist – a news outlet focused on business, finance, world news, politics and economics.
For a long time, The Economist editorial team knew that it wasn't quite reaching an up and coming demographic of young progressives.
The younger generation simply didn't know that it had always been a voice for progressive liberalism in the world. While wading through the data, the team uncovered that this demographic was better defined as 'intellectually curious.'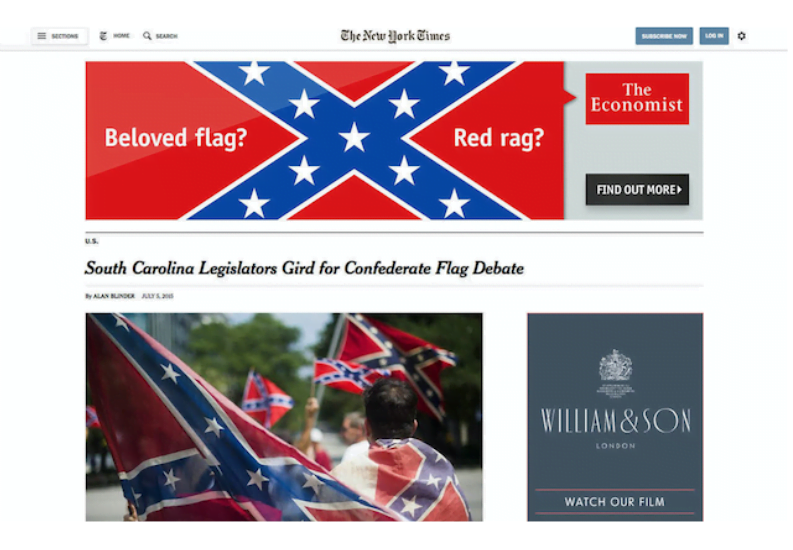 So, they came up with a campaign to convert these reluctant readers.
The plan was to prompt each of the readers to experience an 'Economist epiphany,' which they defined as the moment a reader consumed an editorial and were made to reconsider their opinion on the contents.
Programmatic digital display ads would target 650,000 people and prompt them to change their perception on the magazine.
Using wit and humor, intellectual puzzles were created to draw potential readers to the publication. The act of self-selection was built into each programmatic ad.
Page context was also critical to the campaign – the magazine wanted to make sure they were reaching the right people in the right places. Deep audience data informed their choices.
Ads were placed directly next to stories on similar subjects their demographic was already reading. Curiosity did the rest. The Economist tweaked and tested, and readers became subscribers.
On a budget of 1.2 million pounds, it took The Economist 9 days to achieve 50% of their target 650,000 subscribers. They got 3.6 million people to take action and achieved a campaign ROI of 10:1. Round two of this campaign, saw the same happen, with 8 million people.
Key Takeaways:
Programmatic ads give brands a way to tap into lost audience segments
Reach out and find your audience where they are already
Test your content and identify what works best with your audience
Sharing Programmatic Examples with Your Team
We hope that this programmatic advertising examples list will give you and your team lots of great ideas and strong orientation on what the possibilities of programmatic and how it's being used in the real world.
From finding specific individuals to cutting through the ad noise online and multiplying sales – brands are using programmatic media for next-level marketing. When you can reach people based on who they are, what they like and where they live, there are no limits.
Are you looking for some help to amplify your brand's reach and drive conversions?
War Room is the Programmatic Advertising special force you need.
In-house teams might be overwhelmed with work, so consider partnering with the right Demand Side Platform (DSP) because competitive industries may require additional support from an agency
Finding the right audience is an effective way to reduce Cost-per-Acquisition (CPA)
On days of big events, innovative programmatic strategies can amplify ad ROI
Private deals and programmatic direct can reduce marketplace inflation costs and may even achieve optimized ad outcomes
Sometimes to improve your sales and reach, it's good to go back to the basics and do it really well
A/B testing and creative improvement is important in programmatic advertising
Real-time campaign adjustments can make your campaigns optimal
Be an industry disruptor with creative programmatic advertising by educating and converting highly-targeted consumer segments. This is important for very competitive markets and big brands
For difficult target markets, combine creative and programmatic ads. It is powerful when it comes to getting straight to the point.
Test out your content and find out what resonates best with your audience
Make an impact with your brand with storytelling and personalization. You can do this by leveraging your consumer data. Use it creatively and improve the impact you make with your campaign
Hyper-personalized creative ads have a higher chance of conversions as they can be very appealing to different segments of audiences. Even consider different, unique media channels like digital billboards in outdoor spaces
Location-specific targeting conducted through data can improve response rates in a meaningful way
To automate ads, consider refreshing and repurposing old successive campaigns. It can save you time and money and it also has a high chance of performing!
Brands can find and reach their desired audience through programmatic media
Programmatic unifies and streamlines other digital advertising opportunities