In this blog, we're going to discuss what Dynamic Search Ads are, how they work, what they're good for, and share some best practices. By the end, you'll be able to determine if it's a viable channel for your digital ad strategy!
What are Dynamic Search Ads?
Search ads, also known as pay-per-click ads are essential streams of advertising for businesses of all sizes. Whether you run Microsoft Bing ads, Google ads, or even both – it's one of the best channels to capture people actively searching for a specific product or service (those in the "Consideration Stage" of the customer journey).
Dynamic Search Ads are a newer stream of this, with dynamically generated headlines that show up in the search results. Here's a quick run down of how it works:
1. A user types in a keyword term that's relevant to your business.
2. The Dynamic Ad platform takes titles and frequently-used phrases from your website and generates relevant, clear headlines for your search ads.
3. Dynamic Search Ads are created instantaneously and served, showing up for the user at the top of the search results page.
Here's an example:
Your business is a national boutique hotel chain. Sally types in "Boutique hotels in New York" in the search engine and sees your search ad titled, "Boutique Hotel – NYC." When she clicks on the ad, it takes her to your New York hotel page on your website.
Dynamic Search Ads aim to quickly direct potential customers to the most relevant content on your website.
It's an ad channel that works well with brands with a vast inventory of products online or a well-structured website with many pages.
However, it isn't a strategy that works for everyone. We don't recommend it for:
Websites that constantly updates or changes, like daily deal sites
Sites with primarily Flash content
Sites that require user login to access the majority of the content
How Do Dynamic Search Ads Work?
The ad headline is created dynamically (based on information from your website and product feed). It crawls your site, identifies the page content that could match the user's search query, auto-generates the headlines with relevant copy, and directs the user to the page.
As the advertiser, you'll create the descriptions, providing the user with more context. So, it's important to think about your website landing pages and topics and if it gives people exactly what they're looking for.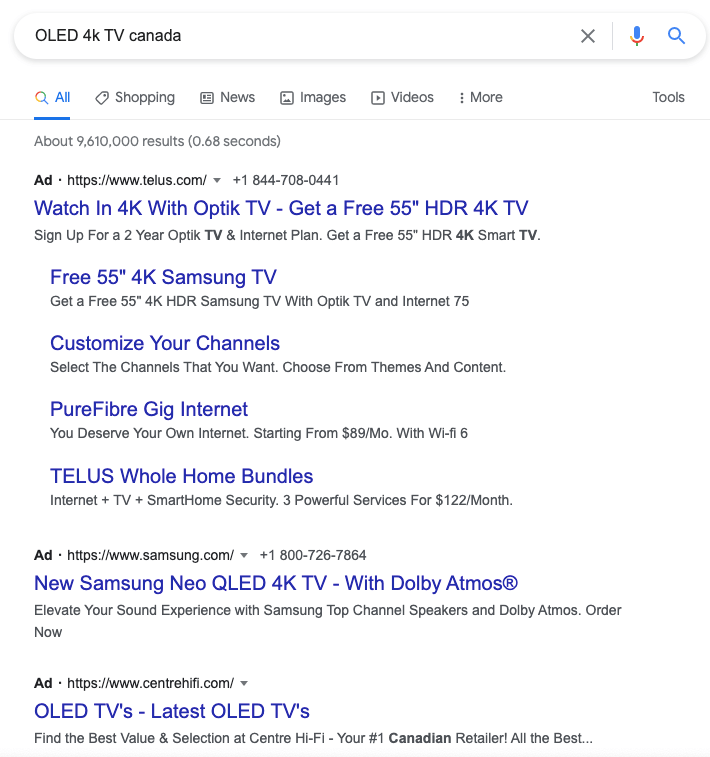 Like traditional search ads, Dynamic Search Ads also have cost-per-click (CPC) pricing. The actual cost is the number of times your ad is clicked x the maximum cost-per-click you set your budget.
However, unlike standard PPC search ads, Dynamic Search Ads don't use keywords, so you don't need to bid on individual keywords. Instead, you'll apply bids on an auto-target level. Auto-target is the list of pages on your website you can choose to target. You'll set a bid for each "auto-target," and you will appear in the search results based on your ad rank.
Dynamic Search Ad Best Practices
1. Ensure your website is optimized and has a good site speed. Will the user be able to have a smooth experience navigating through different pages? Also, don't just focus on the desktop experience – mobile is also important! Dynamic Search Ads can also be delivered on their devices on the go. The better the UX, UI, and relevant content, the more likely they will want to stay on your site and browse some more.
2. Think about the customer journey. What does the user want? Can you give it to them? If so, communicate it effectively. Write easy-to-understand, compelling ad copy for the descriptions for the ad to connect with your target audience.
3. If you have a website domain with different language settings, create separate campaigns for each language so that you won't have Chinese ads shown to a German audience.
Benefits of Dynamic Search Ads
Makes Ad Creation a Breeze
Because headlines are generated automatically, all you need to do is create the copy for the description for each landing page. It cuts your work time in half!
Grab the user's attention and drive more clicks to your website by serving Dynamic Search Ads. Headlines are generated once a user fills out a query. Take advantage of machine learning in the best way possible!
Complements Your Regular Search Ads
Your website feed and product list are crawled automatically. Then, your Dynamic Search Ads might even show up for keywords that would have been labeled as "low search volume" in standard Search Ads. This helps close the gap in your product inventory and keyword coverage! It's a great way to complement your existing paid search ad strategy.
Saves Time Means More Time Back in Your Day
As your advertising agency, War Room would set up a good structure for your campaign promptly. We can help take things off your plate with hands-on campaign management. We'll make optimizations based on data and share all the insights with you in report calls so you can focus on your day-to-day work!
Tip:
Because all the headlines are automated, you don't have full control of the query matches and ad servings. So always double-check that your website structure is straightforward and don't leave room for confusion for the AI. How would Google map your website and product feed? First few days of your campaign launch, look at the search queries to ensure your ads are showing up in the proper context.


(If you're working with War Room, we do multiple QAs through the campaign flight duration).
To sum it up, Dynamic Search Ads are scalable and effective – with hands-on campaign management. If you're looking for expert help with PPC advertising, contact us at 
War Room
! Digital ads are what we do – exceptionally well.Let's take your brand to the next level!
Say hello to customized advertising strategies that convert.
Get in touch with our programmatic experts today!