So, you're looking into hiring an agency to support your company's marketing efforts.
You might come across many digital marketing agencies and, you probably also see advertising agencies–are the two terms interchangeable? Or is there a vast difference? Which one is better suited for your business goals and needs?
Let's take a look, shall we?
Topics we'll go over:
Marketing vs. Advertising
To make sense of everything, we need to understand the difference between marketing and advertising first.
One of our favorite comparisons is from The Blueprint. They say: "if marketing were a band, then advertising could be the vocalist, market research the guitarist, public relations the bassist, branding the drummer, and so on."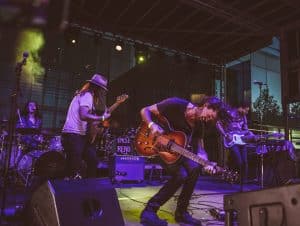 Concordia University St. Paul (CSP) defines marketing as preparing a product or service for entry into the marketplace. Including design, creation, research, advertising etc.
We understand that "Marketing" is the overarching umbrella, and advertising is a category of strategy that belongs to it.
Marketing's primary function is to communicate the brand, deliver the product or service, and convey the value to the audience to convert them into consumers.
The process of developing a product or service to market from the concept inception has one important objective, which is brand alignment. Do the content and design follow your brand's guidelines?
Is the way you're communicating it through your advertising appropriate for your brand, and will it achieve brand awareness, and ultimately, will it drive sales?
You may or may not have heard of the 4 Ps' of Marketing, which are:
Product: Product or service.
Place: Where the product or service is purchased (brick and mortar? Online? Shopping Channel?)
Promotion: Channels and tools used to get the message out
Price: Amount that the consumer pays
In the future, if you're trying to determine if something is marketing, think of the four P's, and if they fall under any of these categories, then it most definitely is marketing.
Here are some examples of marketing:
Content Marketing (blogs, eBooks, whitepapers, infographics)
Email marketing
Landing pages
Brochures
Brand presentations
Event flyers
Social media posts
CSP specifies that advertising is the process of making a product/service be known to the world. It is how a brand positions itself creatively through various media channels, and advertising "must be timely and used in a specifically strategic way".
Advertising is essentially a substream of Marketing that focuses on targeting your product/service to your desired audience through ad creatives. Traditional advertising managed ad spots in media channels such as print, television, radio, and recently digital.
These are some examples of advertising:
TV commercials
Online banner
Video ads on Youtube
Billboards outside buildings
Print ads in magazines
Social ads

Now that we know the difference between marketing and advertising, let's take a look at the difference between these agencies!
What Does a Marketing Agency Do?
The question should be, "what DOESN'T a digital marketing agency do?"
You hear this a lot, where a marketing agency is a one-stop-shop for all things marketing. Cover content creation (graphics, blogs, whitepapers, etc.), social media coordination and marketing, Pay-Per-Click (PPC) campaigns, implementation and execution, Search Engine Optimization (SEO), and more.
If you're looking for a digital marketing agency in your area, you might find lots of these around as there is a lot of demand as they offer a wide variety of services. To determine which one is the best suitable for your business, be sure to check out the Questions to Ask Agencies When Inquiring section below!
Small or medium businesses sometimes don't have the budget to hire someone in-house for marketing. This is when the need for a Marketing Agency comes in. This way, they can outsource their marketing needs.
Marketing Agencies are like a part-time marketing team member that works remotely and helps produce marketing assets for you.
Who is the Best Fit for a Marketing Agency?
Small businesses that are starting up or need additional support in marketing. Digital Marketing Agencies would be an excellent choice to partner up with as they have a broad range of services you can typically pick from a la carte to best suit your needs.
Medium to big brands who may already have an in-house marketing team but may need extra support to produce higher volume marketing assets.
What Does an Advertising Agency Do?
Advertising Agencies specialize in strategic planning, execution, and reporting of advertising. The primary function is to support companies and/or organizations hone in on their target consumer base with a laser focus on selling their service or products!
An Advertising Agency generally does not create content or assets for clients. The clients provide the creatives that need to be advertised, and the Advertising Agency provides recommendations they see fit.
For example, War Room is an advertising agency because we specialize in targeting audiences and direct campaigns. We utilize our technology stack and specialize in programmatic advertising. This allows us to automatically do media buying on tens and thousands of channels and get our clients' ads to their desired audience. Throughout the campaign, the team monitors the ads closely and makes optimizations as they see fit. After that, we provide in-depth analytical reports that showcase how the ads performed exactly with a series of data charts and graphics (such as heat, scroll and click maps), which we review together with the client and discuss victories and areas of improvement for the next campaign.
Please take a look at one of our case studies here:
Advertising Agencies are like results-driven, strategic partners. Think of it as a special forces team.
Who is the Best Fit for an Advertising Agency?
Businesses or companies with capabilities to produce creative marketing in-house but need help with getting in front of the right people.
Advertising Agencies can provide that extra "oomph" with their hyper-targeting tools, cross-channel distribution, and analytical tools.
They will help you serve your ads effectively, which subsequently will aid in driving sales.
We would say Advertising Agencies are most suitable for medium to large-sized businesses. These companies usually have robust in-house marketing teams, but they're looking to bring their ads up to the next level while maximizing their ROAs (Return on Ad Spend).
Questions to Ask Agencies When Inquiring
Whether you're looking to hire a marketing agency or advertising agency, here are some questions you should ask them when inquiring about their services:


What makes your agency stand out from the competition?
Who will manage my account? How often will we connect?
How much experience do your team members have?
How do I, as the client, get transparency into the progress of my projects?
What is the process like getting set up?
How soon can we kick off our projects?
How do you track performance and success?
Can you share any client case studies? What were the results?
Have you ever lost an account? Why?
What is your favorite and best work? Why?
How do you charge for your services? How much is it?
Are there any trends in the industry I should know about that could affect my business?
Do you have any recommendations for my brand or marketing strategy?

These questions allow you to understand more about the agency, how they work, how many touchpoints you get as a client, and they get to talk about their portfolio. Get a gauge on their personality, how they discuss work: if it's easy-to-understand or more technical—whichever style your business is looking for.

What is most important in looking for a partnership with an agency is that they understand your brand and goals and collaborate well together.
Marketing is the overarching umbrella of ways to promote a brand and its product/service.
Advertising is a category under marketing that focuses explicitly on presenting the brand through different mediums (TV, online, print, radio, etc.) to targeted audiences.
Marketing Agencies are often one-stop-shops for marketing services. This may include: content marketing, social media management, paid advertising, graphic design, Search Engine Optimization, and more.
Marketing Agencies are great for companies who don't have anyone dedicated to marketing or are looking to outsource specific marketing needs.
Advertising Agencies have an expert specialization in strategic ad buying, placement, and distribution and may also provide clients with recommendations for their creatives.
Advertising Agencies are a good choice for businesses capable of producing creative marketing in-house but need support with hyper-targeting their audience and gaining more insight into their ads' performance.
When inquiring with an agency (no matter marketing or advertising), be sure to ask specific questions, especially on customer service, past projects, and industry trends, to evaluate if they are the right fit for your business!