Make retail therapy cost less and give more, with Google Shopping.
Just when you thought Google couldn't possibly make another thing better for humanity, they go and dip their hands in your online shopping experience.
However, it's done in a great way; like many of their platforms, Google has simplified the online shopping experience for merchants and shoppers alike!
Advertiser Community let's the numbers speak for themselves: in 2013, Google Shopping accounted for 13% of traffic and 12% of sales for eCommerce merchants. Mobile accessibility is a given, with 24& of PLAs being attributed to traffic by Q4.
There are distinct advantages to Google Shopping, known as Product Listing Ads (PLAs), for merchants and shoppers; much like being certified as a Google Partner, Google Shopping provides a badge of approval to certify you as a trusted merchant, and helps earn you money from ads via AdSense.
For the shopping experience, Google makes shopping simple and accessible with a variety of paying options–whether on the go via mobile, desktop or tablet, in a secure manner.
In this article, we'll go through the ins and outs of Google Shopping and how it can enrich your merchandising experience as a vendor.
Get all of your products on Google
Attract all the right customers, in all the right places
Make buying simple, accessible, easy.
Inventory & Accessibility
Yup, Google allows you to upload your entire catalogue of products and campaign data via. Google Merchant Center.
One of the major advantages to using the Google network is that you can choose to have certain products that are sponsored and displayed first, to appeal to consumer interests. However; the key advantage over other eCommerce platforms is that you only pay for this feature when shoppers actually click-through to your website, or your inventory! Saving $$$, saving time.
That said, Google Shopping also allows merchants to promote inventory on a local scale, catering to potential buyers within a smaller geographical scale.
Referred to as local inventory ads, Google Shopping will selectively display your ads to customers who are searching for similar items nearby. With the same thinking behind related searches and dynamic remarketing, Google intuitively can place your ads where they count, based on previous search queries and product preferences.
That said, Google hosts a virtual storefront for your inventory that is completely accessible, 24/7. With a few simple clicks, Google will display your company's contact information, website, hours, and more. Think of it as round' the clock customer service, without the sleepy representative on the other end of the line.
All the right customers, in all the right places.
Speaking of dynamic remarketing, Google Shopping let's you do THAT, too. By filling out a few simple details such as your business type, creating a feed of ads, and tagging your website, you're able to retarget your ads to customers who have similar interests in products.
Minimal dollar, maximum ad reach.
Via control through the Google Merchant Center, shopping for products is a true retail-centric experience; in terms of ad bidding on AdWords, it's become much easier to bid on specific products, categories and even sub-categories.
For example, say you're a world-class retailer of wine; if Shiraz is your best seller, you can easily work with that category specifically, as opposed to an "All Products" campaign, which would display all of your products for you without focus to the seller.
So, you've obviously read all of our posts here at the Advertising Institute, and obviously, you know how passionate we are about data-mining and segmenting your campaign analytics.
This is another reason we're excited about Google Shopping.
Within the "Dimensions" tab of your campaign manager, it's easy to access sub-tabs that reveal data on conversions, ad reach, user locations, even the differences between paid and organic growth.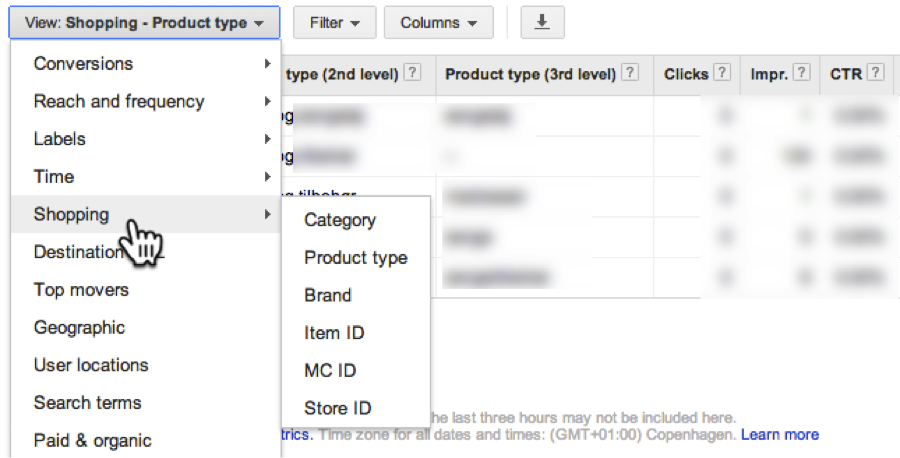 And if you're super nerdy like us, you get excited about the fact that YOU CAN EXPORT ALL OF THESE PERFORMANCE METRICS!!!!!!!!!!!
C'mon, it's pretty exciting. Who doesn't like plotting your analytics and extrapolating from it?
Considering you're selling products on the Google Network to consumers with varying preferences, ages, and locations, having the ability to export your performance metrics (especially with conversions) can help you determine which keywords and ad strategies really work.
So what are you waiting for? Open up a merchant account, and get started today to watch your business boom.