Take Advantage of Custom Targeting
When it comes to Facebook lead ads – or any ad for that matter – custom targeting helps to significantly improve the likelihood of sub-groups within your target demographic to convert based on a number of custom variables: gender, age, interests, and more!
From the get-go, Facebook lead ads already do some of the work for you; by using the information Facebook already has available from your account, the form fields in lead ads already have your name, email, and potentially phone number pre-populated.
Combined with Facebook ad targeting that allows you to direct your ads to specific groups of highly engaged people, this increases the likelihood of conversions.
By using the Ads Create Tool in your Facebook Business Manager, you're able to geo-target customers by city radius, exclude cities from your ads, and target by age, gender, education, work, even someone's relationship status. Additionally, Facebook Lead Ads allow you to target by interests, behaviours, and more; notably, you're able to create custom audiences and remarket to people who've visited your website previously.
For more information, check out Custom Audiences and Lookalike Audience options that Facebook Lead Ads present!
Create Smart Lists of Contacts
Guess what? You can easily connect Facebook Lead Ads to your Hubspot CRM in a few simple steps; from the Smart Lists made among your Hubspot contacts, you're able to create Custom Audiences based off the contact information you've already collected.
Smarter lists mean smarter retargeting and smarter conversions.
When it comes to other lead gen ads, many of the best practices for them also apply to Facebook lead ads–especially the importance of ad scheduling!
Depending on the nature of your business, your potential customers are more active at specific times and less active during others. One of the keys to efficient ad spend and ROI on your lead ads is precise ad scheduling for the times that your target demographic are the most active!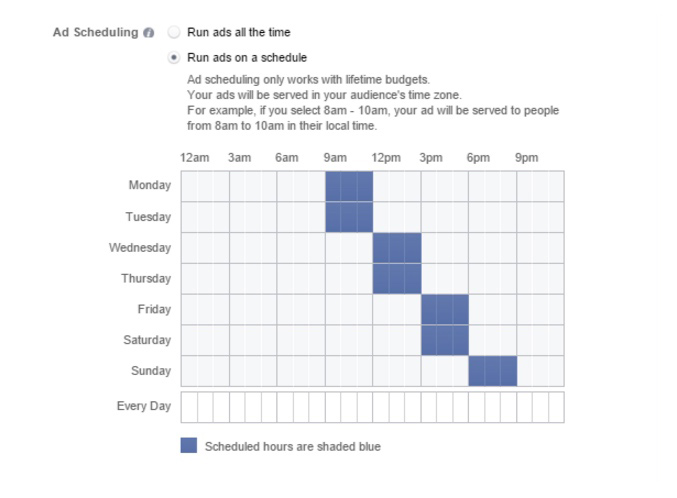 For the times you can't follow up on a lead, Facebook's ad scheduling ensures your ads aren't up and running–saving you time and money. Pausing underperforming ads can also be a great way to maximize on the ads that are performing, and split test the reasons as to why to maximize the effect your future ads have on conversions and CTR.
Strong CTA, Strong Results
Combined with pre-filled form fields, Facebook lead ads have six call-to-actions that drive people to convert, including:
Sign Up
Subscribe
Learn More
Apply Now
Get Quote
Download
Depending on your form and ad goals, choose your CTA wisely to ensure that your CTR is as high as possible to drive traffic to your website.
Killer Copy + Incentive = Fast Conversions
With the CTA's previously mentioned, they all rely on strong, simple, effective copy to guide your potential customer to them, and eventually your site for conversions. Between the click-through and the form fill, your copy should be clear enough to guide users fluidly to your CTA! Paired with a compelling visual, great copy and ad design will seriously help to improve your ad's conversions; but that's only half of the equation…
Ever considered adding some extra incentive for clickthrough? By incentivizing your lead-ads with a coupon, that makes the buy-in for a consumer much easier. Whether it's a coupon, free white paper, free consultation or quote, etc., incentives can be the finishing touch that drastically improve your ad CTR when combined with clear copy.
So there you have it! Facebook Lead Ad best practices in a nutshell. Do you have any best practices you use for your Facebook Lead Ads? Be sure to let us know in the comments below.
Happy advertising!
Giving back to our community has always been a big part of War Room's company ethos.Our agency's core values are Passion and Service. We are passionate about making a difference and believe that relationships are the key to business success and longevity. As a small...