Facebook users view sponsored posts in the feed for 130% longer than sponsored ads to the right.
It's 2017! Before we get into how Facebook Ads are a serious win for your company's goals–whatever they may be–we want to wish you a Happy New Year. We encourage you to take everything you've learned in and outside of this blog and apply it to your success–as an individual, as a company, and with your future campaigns.
Now, back to the real face of this article: Facebook Advertising.
Whether you're a Power Editor pro or haven't yet delved into Facebook Ads, there is no denying the obvious benefit to advertising your products on Facebook–but in case you needed some reminders as to why you'd be crazy not to, here's a few:
Facebook Ads achieve maximum impact for minimal dollar spend when it comes to your campaigns.

Now that we've reminded you about how amazing Facebook Ads are, let's ask you this:
Do you know exactly which Facebook Ads work for your goals?
Most advertisers are constantly relying on the same ad types and have their results plateau; in this article, we'll delve into the different Facebook Ads and how they work–or don't work–for your specific goals.
Facebook Ads – The Good, The Bad, The Mobile
As of now, there are multiple types of Facebook Ads available at your disposal:
Promoted Posts
Video Ads
Lead Generation
Dynamic Product Ads
Abandoned Cart Ads

Each Facebook Ad type possesses their unique benefits, drawbacks, and opportunities: According to AdWeek, Facebook video ads garner the most engagement among users, although they make up only 3% of total content on the platform. 75% of brands will pay to promote posts in general, which can only be done if a page has over 400 likes.
These show up in users' news feeds; you control who can view the ad and are able to segment your target demographic by keywords searched, geographic location, gender, etc.
One of the best parts about promoted posts is the ability to track how many people you've reached with the post in addition to the click-through rate.
With the right marriage of direct response copy and art direction, promoted posts can seriously bump up your engagement among consumers who might not have come across your page in awhile, since promoted ads are a part of the user's news feed.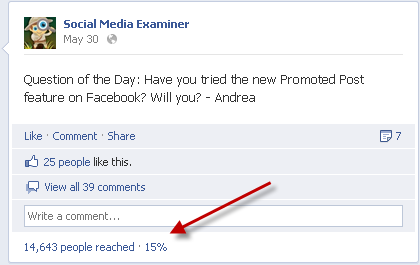 Did you know that mid promotion, you can stop the promotion and readjust your budget if things are getting tight? You can also view the performance of an ad during and after your campaign finishes.
There are downsides, though: you can put as much money as possible to promote posts, but you must ensure the design and copy of said post hit home with your end consumer to actually increase your click-through rates on ads. Without strong copy, your ad is dead in the (digital) water.
And if you are already reaching 30-40% engagement on your ads anyways, then promoted posts might not be for you–it might be time to explore other types for a more decisive approach!
Video Ads-Highest Engagement
That's right–video ads only make up 3% of the total content on Facebook, yet are the most effective for generating engagement. What gives?
Simply put, most advertisers just don't know how impactful Facebook Video is: According to Adobe, shoppers that view videos are 1.81X more likely to purchase than non-video viewers.
If that wasn't enough, online video accounts for approximately 50% of all mobile traffic. 
As we've mentioned before, your copy with said videos needs to be compelling–the biggest miss for most advertisers is forgetting to include a clear CTA.
Wait! Come back!
This sentiment combined with a value-based CTA almost always leads back to abandoned cart style ads, effective among millennials and younger demographics engaging heavily in e-commerce.
Traditionally most advertisers take advantage of their email database to get shoppers who've abandoned your cart back to the store–but the problem lies in users not opening their emails, not clicking through on email links, etc. The more steps needed to get to a website, the higher the likelihood of potential buyers not making it to your site and converting.
The more steps needed to get to a website, the higher the likelihood of potential buyers not making it to your site and converting.
With Abandoned Cart style ads like the one above, there's a clear value prop. and CTA to lead the consumer to the site–all in one step! Paired with Dynamic Remarketing – the sky is the limit for nabbing shoppers on the brink of purchase.
Speaking of your email database, lead generation ads are quite effective in building your brand's email marketing list through subscription/submit buttons – all with the ease of a button push.
Instead of a form field with 7-10 different sections to fill, Facebook lead gen. ads are brilliant in that they auto-populate fields they'd have to fill out normally. Again, the fewer fields to fill out–the higher the likelihood of prospects turning into paying customers.
Facebook describes it as "connecting consumers to businesses in two taps." Setting these ads up is easy in your Ad Campaign Manager; with these ads, good copy, and visual presentation is essential to funnel prospects to your subscription button.
And these are just 4 of our favourite Facebook ads–what are yours? How do you navigate the world of Facebook Ads for your business?